Rudy Kurniawan Sold One of the Koch Brothers Fake Wine, and Now He's Going to Prison
By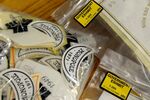 William Koch, the quieter and less politically active of the Koch brothers, is a wine collector. He's also the victim of a huge wine swindle. Koch, as well as several other prominent collectors, bought counterfeit French vintages created by connoisseur Rudy Kurniawan in his home kitchen in the Los Angeles suburb of Arcadia. On Thursday, Kurniawan was sentenced to 10 years in prison on mail- and wire-fraud charges; he was ordered to forfeit $20 million in real estate, art, jewelry, and wine, and pay $28.4 million to those he deceived.
Kurniawan's scheme was "a bold, grandiose, unscrupulous but destined-to-fail con," U.S. District Judge Richard Berman said. Kurniawan, also known as Dr. Conti, had cheated collectors, auction houses, and others from 2004 to 2012; some of the bogus wine hasn't been recovered. Kurniawan is the first person in the U.S. to be prosecuted for selling fake wine.
Koch was among the first wine collectors to publicly admit he'd been taken. He testified during the trial that he lost about $2.1 million on 219 bottles of what he believed to be French vintage wine. Koch settled a civil lawsuit against Kurniawan last month. As part of that agreement, Kurniawan will share everything he knows about the wine counterfeiting industry.
In a letter to Judge Berman asking for leniency in his sentencing, Kurniawan wrote:
Finding rare wines became an obsession and I relentlessly pursued obtaining them wherever I could find them. … The obsession attracted attention and I admit that I enjoyed it. … I thought these people were my friends and I wanted to be accepted in their world. I now realize that all this was false and pretentious and that my priorities were completely out of order. The things I did to maintain this illusion were so foolish. The end was inevitable.
Before it's here, it's on the Bloomberg Terminal.
LEARN MORE