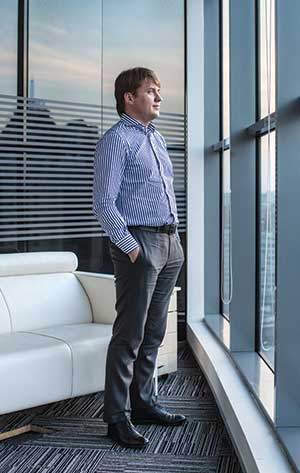 The knock on the door for Andriy Gerus came on a Monday morning in July. Fresh from getting his MBA in London, Gerus, a managing director at Ukrainian investment company Concorde Capital, was preparing to take his baby for a stroll in the pleasant Holosiyevo district of Kiev. Instead, the surprise visitor handed him orders to report to the Ukrainian army's commissariat, the agency in charge of the draft. Gerus says his heart raced. He knew next to nothing about firearms. "I imagined myself with a gun, marching," Gerus, 32, says over drinks in a cafe in central Kiev. When he had calmed down, he headed to the commissariat. He will probably be drafted into the army within days. "Everyone has two choices," Gerus says. "To obey Ukrainian law, go with your conscience, and prepare to be mobilized or avoid joining the army by skipping town and risking three to five years of prison. I prefer the first choice."
The war is coming home for thousands of Ukrainians as the third mobilization since March drafts men into service. The most widespread reaction to the draft is fear: The fact that a third mobilization is needed is a sign the war is far from over. The extra manpower is meant to contain the pro-Russian insurgency that started in April in the easternmost regions of Ukraine.
Ukraine and its Western backers blame Russia for stoking the insurgency. Russia, which in this past decade embarked on the biggest overhaul of its armed forces since the Cold War and spends about 56 times more than Ukraine on defense, has about 800,000 men and women in uniform. The Ukrainian army numbered about 70,000 at the start of the conflict, the U.K.'s Royal United Services Institute for Defence and Security Studies said in a report in April, adding that it's "poorly equipped and would struggle to mobilize fully."
Since Ukraine went on the offensive against the rebels in mid-April, the army has lost 363 soldiers, and 1,434 have been wounded, says a spokesman for the military, Andriy Lysenko. The separatist forces now number about 15,000, up from 300 when the conflict started, yet they hold less than half the territory they did four weeks ago, Ukrainian Defense Minister Valeriy Geletey told the BBC on Aug. 3. More than 65 towns and villages in the Donetsk and Luhansk regions of eastern Ukraine have been retaken, he said. Geletey's son got his call-up notice on Aug. 1, the minister wrote on Facebook that day. Draftees' training lasts from nine days to two months, depending on their assigned task.
Even with the mobilization, Ukraine's army is drastically smaller than it was 20 years ago, when 700,000 men were in the service. "The Ukrainian army has been facing severe cuts," says Janis Berzins, managing director for the Center for Security and Strategic Research at the National Defence Academy of Latvia in Riga. "The result, as always, is reduced operational capability."
To replenish the ranks, Ukraine is turning to people such as Oleksandr Bondar, 32, who employs seven people at his IT business in Lviv, near Poland. Deployed on the border of the regions of Donetsk and Dnipropetrovsk about 1,000 kilometers from home, he's serving as a deputy chief of a support squadron that supplies ammunition and fuel to frontline troops about 100 kilometers away. "My first thought was: All is lost!" Bondar says about his reaction to being drafted. "I wasn't prepared for serving in the army at all. I was preparing to go on vacation and had the tickets already. Another question on my mind was: How long will my business operate without me?"
As soon as Ukraine President Petro Poroshenko ordered the first mass call-up, protests—led mostly by women—swept through Ukraine from Mykolayiv on the Black Sea to Chernivtsi, near Romania. Protesters scuffled with the police and blocked roadways and bridges, demanding to know why their men were being drafted to fight so far from home. "In any country, there are different people—patriots and those who would rather avoid a fight—and Ukraine is no exception," says Anton Mikhnenko, a deputy director of the Kiev-based Center for Army, Conversion and Disarmament Studies. "But they, too, should understand: If their husbands and sons don't help now, this military conflict will spread and could cover their own territory as well. It's everyone's problem." The protests have subsided since the protesters learned that relatively few draftees will be in combat.
It's fairly easy to dodge the draft in Ukraine. A bribe can be paid to the right official. Men can just ignore the notices from the commissariat and move to another town. The chance the police will pursue is very remote.
Some Ukrainians aren't waiting for their draft notice. Millionaire Vyacheslav Konstantinovsky, 53, co-owner of the Kiev-Donbass Development Group, put his Rolls-Royce Phantom up for sale and joined a volunteer battalion fighting in eastern Ukraine as part of the interior ministry's forces. The proceeds from the Rolls sale will go to meet the army's needs, he says. "Why did I do that? I don't want to say I'm a big patriot," he says. "It's more because of a sense of justice. And because a lot of nice, clever, well-educated, friendly people are on the front line now. So why should I be an exception?" Bondar, the IT entrepreneur from Lviv, says he feels "scared every time we head to the front line. For the shell or the bullet, it doesn't matter who you were in your civilian life."
Before it's here, it's on the Bloomberg Terminal.
LEARN MORE