Why the Tesla-Toyota Partnership Short-Circuited
How Tesla and Toyota's deal to develop an electric SUV fizzled
By and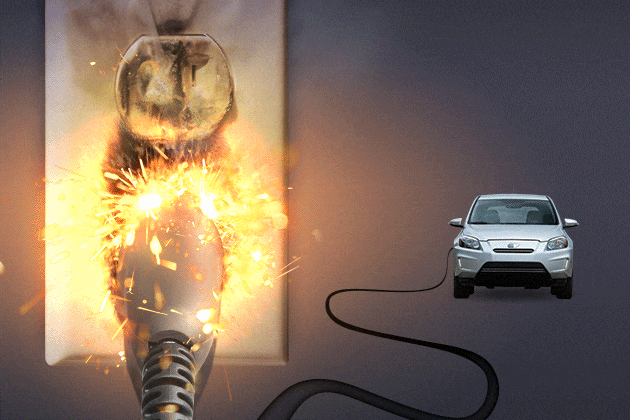 Four years ago, Tesla Motors Chief Executive Officer Elon Musk invited a fan to his California home and let him take his electric battery-powered Roadster sports car for a spin. His guest: Akio Toyoda, president of the world's biggest automaker. The two hit it off, and within weeks, Toyota Motor agreed to buy a $50 million stake in Tesla and sell its shuttered auto factory in California to its new partner for the bargain price of $42 million. They also agreed to jointly develop a new electric version of Toyota's RAV4 sport-utility vehicle and considered extending the collaboration to an electric Lexus RX SUV, a person familiar with the matter, who was not authorized to speak about the plans, said at the time.
Today the ties are unraveling, with production of the co-developed RAV4 electric vehicle scheduled to cease by yearend. Fewer than 2,000 have been sold. Once lauded by Musk as a springboard for a deeper partnership, the SUV stood little chance of becoming a hit after Toyota slapped it with a sticker price of almost $50,000—double the gasoline version's, and higher than Musk said he would have liked—and limited its availability to California, which requires that automakers sell a small number of zero-emission vehicles annually.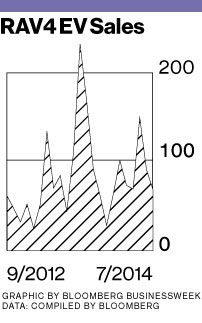 More significantly, the tie-up was marred by clashes between engineers, according to people with knowledge of the matter, and highlights how quickly marriages of convenience can turn sour in the auto industry. Toyota, whose homegrown electric RAV4 was discontinued in 2003, is distancing itself from Tesla's focus on all-electric vehicles and embracing fuel cells, a technology Musk ridicules.
"Just because two companies are successful doesn't mean when they come together, they will succeed," says Ashvin Chotai, managing director of researcher Intelligence Automotive Asia. "When you've got somebody threatening the status quo in an industry and they try to cooperate with the biggest player, it's bound to lead to so many complexities."
The automakers' different reasons for pursuing the project reflect their respective weaknesses. Toyota, which sought to learn from its nimbler partner, will trail the average industry pace for churning out new models for the next five years, forecasts Merrill Lynch. Tesla, founded in 2003—almost 80 years after Chrysler, the next-youngest existing U.S. carmaker—is in the midst of an expansion that will test its manufacturing capabilities.
In May 2010, as the alliance took shape, Musk called it "historic" and said he had long admired Toyota. Describing his test-drive a month earlier, Toyoda said he felt "the wind of the future."
For Tesla, the deal meant money, its first factory, and the credibility that comes with working alongside an industry leader. For Toyota, the tie-up gave the grandson of the company founder the opportunity to reinvigorate a carmaker reeling from the massive recall after its sudden unintended acceleration crisis. Toyota's investment also ended up being profitable: Its Tesla stake was worth $732 million on Aug. 6.
"When Akio got involved in this with Elon, I think it went beyond batteries," Jim Lentz, CEO of Toyota North America, said in May. "It was about teaming up with this very entrepreneurial, small startup in the automobile business and really kind of understand[ing], by working side by side with these guys, what could we learn to be much quicker, more entrepreneurial at Toyota."
It didn't take long for conflicts to emerge, people familiar with the project say. According to two former engineers at the companies, when Tesla engineers presented Toyota with early design proposals for the RAV4 EV, Toyota's team balked at their lack of a common component called the parking pawl—part of the transmission that serves as a backup for the parking brake. Tesla proposed an electronic parking brake because the company had experienced difficulties with the pawl it used when developing the Roadster, one person says. Toyota's engineers were adamant, however, and the pawl was put into the RAV4 EV.
Toyota engineers also rejected Tesla's designs for an enclosure to protect the bottom of the RAV4 EV's battery pack from road debris, the people say. Toyota ended up taking over design responsibility for the enclosure and strengthened its structural integrity, they say. (In March, Tesla added a titanium plate to its Model S sedan to better protect its battery; the move came as U.S. regulators reviewed debris-related crashes that led to some cars catching fire.)

Another source of conflict was Tesla's proprietary system that captures friction produced when drivers apply the brakes, says Jeff Liker, a University of Michigan engineering professor who met with Toyota's RAV4 EV engineering team last year. In Tesla's Model S, taking your foot off the gas pedal automatically triggers the vehicle to start braking, which can cause the car to jerk. It takes some getting used to, Liker says. Initially, Toyota engineers were concerned the system would turn off car buyers, but they signed off late in the development process because the energy-capture braking system led to improved efficiency numbers.
Both sides were extremely protective of their proprietary systems. "Toyota couldn't share their actual code with Tesla, and Tesla couldn't share their actual code with Toyota," Liker says. "The way they explained it was like, 'This is a black box.' "
Representatives at Tesla and Toyota declined to comment on specific details of the RAV4 EV's development, and officially the companies have been tight-lipped about any problems with the partnership. Tesla values the "world-class" production quality processes it learned from working with the Japanese carmaker, says JB Straubel, the electric vehicle company's chief technical officer. Straubel says he wasn't aware of specific episodes of tension between the engineers. Tesla spokesman Simon Sproule declined to comment on the RAV4 EV development process.
"You had a case of two very different companies with different approaches," says John Hanson, a Toyota spokesman. "Sure, it was a difficult project, but it also had a very tight time deadline, and the product came out on schedule."
Two years after Toyoda and Musk announced the project, the RAV4 EV went on sale, in September 2012—fast for an industry where redesigning models can take seven years. Since then, deliveries have totaled 1,902 through July. The pair had planned to sell 2,600 over three years from the outset.
With the RAV4 EV nearing the end of production, Toyota and Tesla are taking different paths. Tesla is flying high with its Model S, scoring the best rating ever awarded any vehicle by Consumer Reports. Musk plans to build the world's largest lithium ion battery factory and is readying the electric Model X SUV for release next year, followed by the Model 3 small sedan in 2017.
Toyota is looking to hydrogen-based fuel cells for the future, saying they can be powered up for a 300-mile trip in less than five minutes, vs. 10 hours for Tesla's Model S. Musk in June mocked the technology as "fool cells." Last October he said there's "no way" fuel-cell vehicles would succeed because they're too complex and costly.
Toyota disagrees. "Competitors who dismiss fuel cells out of hand do so at their own peril," Robert Carter, senior vice president for U.S. automotive operations, said in January. When asked specifically about Musk's criticism, Carter said, "Personally, I don't really care."
Yet neither company has given up on partnerships. Toyota is co-developing a sports car with BMW, and Tesla is delivering batteries and motors for Daimler's electric Mercedes-Benz B-Class hatchback. Even Toyota and Tesla may not part ways for good. Tesla agreed with Toyota to "put things on hold and circle back maybe in a year or two," Musk said on June 3. For now, though, their partnership has stalled.
Before it's here, it's on the Bloomberg Terminal.
LEARN MORE