Bet Against the Seven Horsemen of the Apocalypse
by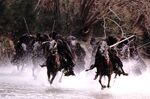 You know they're out there.

Even people still squeamish about one or another global mega-risk must, deep in their seats of reason, twitch at the thought of these things taking a toll:
Climate change.

Water scarcity.

Vast urban waste.

Food insecurity.

Public health burdens.

Economic inequality.

Demographic cliffs.

See below for charts describing each.
These are notorious, fuzzy, amorphous risks that belong to everyone and therefore to no one. That's why unabashed leadership in the fight against them is so hard to come by in either the civic sphere or private sector. These problems can seem infinite, and, what's worse, can be addressed only in what seem like infinitesimal measures. Who wants to own the global food insecurity problem? Any takers? Why even bother, right?
Well, we'll see. The latest helpful but infinitesimal step comes from Morgan Stanley Research, which asked its equity research analysts to pick stocks from companies that are either girding themselves for or trying somehow to forestall at least one of these seven "sustainability themes," as they call them. Or "horsemen of the apocalypse," as we're calling them.
The chosen companies must meet several criteria. Stocks should promise "a positive return over a shorter time horizon." A year, the analysts say, should be short enough to pique some investors' interest.
Other criteria: The companies are all rated "overweight," because they think that the stock may perform better than the industry average, on a risk-adjusted basis for the next year or 18 months. Lastly, the stocks included in the research should have the potential for at least a 10 percent increase above their current prices, and also have a market cap above $2 billion.
In many cases, the companies selected fall outside the familiar lists of consumer-product, car or industrial companies who are anticipating these trends in their long-term strategies. (Think Unilever, Ford or General Electric.)
Morgan Stanley Research ended up with a diverse group. The top five "sustainability picks" in the U.S., for example, are a mix: Sun Edison, a solar-power provider; Cubist Pharmaceuticals, which develops products for emergency rooms and other "acute care" facilities; Tesla Motors; Whole Foods Market; and Chart Industries, which makes freezing and gas-handling products for medical and food industries.
The research will be updated regularly. Alas, it's unavailable to non-clients. That's okay, though. What's important is that research firms are focusing new lenses on new problems that many investors don't intuitively consider.
Many thoughtful reports put sustainability in front of investors. The utility of the Morgan Stanley Research piece might not be transformational results of the effort, but the fact that they thought to undertake it at all.
Seven Snapshots of 21st-Century Risks:
Climate Change

Water Scarcity
Vast Urban Waste

Food Insecurity

Economic/Energy Inequality
Public Health Burdens

Demographic Cliffs (Aging)

More by Eric Roston (@eroston on Twitter):
Visit The Grid for the latest about energy, natural resources and global business.
Before it's here, it's on the Bloomberg Terminal.
LEARN MORE