pursuits
Lechal: Smart Sneakers That Tell You Where to Go
Lechal shoes tell you where to go
By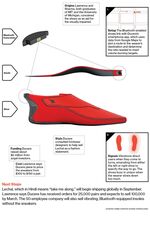 Innovator: Krispian Lawrence and Anirudh Sharma  
Age: 30 and 28
Co-founders of three-year-old Indian startup Ducere Technologies.
Form and function: Lechal is footwear that sends and receives Bluetooth signals, giving wearers detailed analyses of their physical activity. The sneakers guide runners along their routes and help keep them from slacking off.
Before it's here, it's on the Bloomberg Terminal.
LEARN MORE