The Evil Genius of Kim Kardashian: Hollywood
The evil genius of the reality star's app
by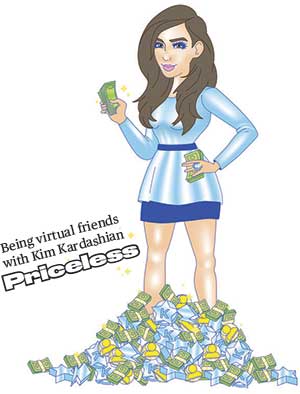 Kim Kardashian is my matchmaker. She's just set me up with a cute guy named Mitchell, who's a writer but "not one of those nerdy sitcom writers," as she puts it. I meet Mitchell at Panino, a trendy restaurant in Beverly Hills, and opt to "flirt" with him. But when I go to order us a bottle of "fancy wine," it turns out I'm "too tired" to do it. But I don't feel tired! In order to finish the date and achieve my goal of being Stunningly Attractive, I have to get more energy. That means I must either whittle away an entire hour or head to the Star Shop. There, $4.99 buys 50 stars, allowing me to continue my romantic evening. Or I could pick the Best Value, and pony up $99.99 in real-life dollars for 1,250 stars. That's a hundred bucks that could be spent on actual fancy wine. Or clothes. Or rent. Mitchell, like all good things, can wait.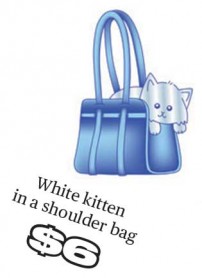 The Kim Kardashian: Hollywood game is currently the fourth most downloaded free app on iTunes—and also the No. 4 top-grossing one. The company behind it, Glu Mobile, which also owns games such as Deer Hunter and Contract Killer, revealed in a July 30 earnings call that Hollywood generated $1.6 million during its first five days on the market (it came out on June 25, and has taken over countless lives since). Doug Creutz, an analyst with Cowen & Co. in New York, told Bloomberg News that annual revenue from in-app purchases could reach $200 million. "It might be our biggest game of the year," Glu Mobile Chief Executive Officer Niccolo de Masi said on Bloomberg TV. (TMZ reports that Kardashian gets 45 percent of the net profits.)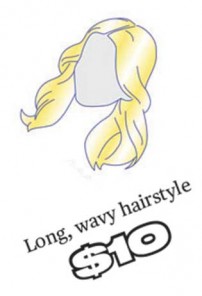 To call the game a game is kind of a stretch. You download the app and create an avatar—I gave mine long, wavy hair and dressed it in a white crop top, tight jeans, and hoop earrings, all Kim-approved. Then you wander around a virtual world of starlets, publicists, and creeps, choosing your own vapid adventure as you go. The point is to get on the A-list; you start off as a lowly E-list nobody and have to complete tasks such as walking in a fashion show and posing for a photo shoot to get to the next level of notoriety. Kim pops up every now and then to introduce you to an agent, invite you to a party, or set you up on a date with someone like Mitchell. She's Glinda the Good Witch of Beverly Hills, also appearing multiple times a day as a push notification on your phone. Think you've got a new text message? Nope, just Kim K telling you, "Your energy is full! Further your career, go on a date … get famous!"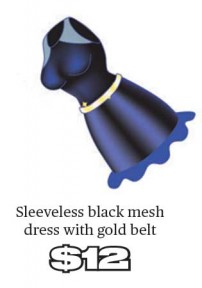 It's easy to get sucked into the mindless tapping, and the setup is a knowing, oftentimes funny parody of the Kardashian world. Bloggers and socialites vie for your time. At one point I get a phone call from my agent, Simon, saying I'm up for "a background role in a commercial for a new window cleaning solution called Glassex." I turn down the opportunity, which seems chintzy, instead appearing in a classy ad campaign in Metropolitan Magazine.
You don't have to pay anything to play, but if you run out of energy and become "tired," you have to wait, sometimes hours at a time, to resume the game. This happens a lot. There are also tons of wardrobe options that are unavailable unless you pay for additional stars: I sadly couldn't afford a distressed leather jacket that would have looked awesome with my outfit. This gets frustrating, which is clearly Glu Mobile's intent, and explains why formerly sane people choose to authorize their credit card at the Star Shop. (Parents: Do not give tween daughters your iTunes password unless you've got a few hundred real dollars to flush down a virtual toilet.)
Soon—I swear—I'm deleting Kim Kardashian: Hollywood from my phone. It makes me dumber, and the small text hurts my eyes. And I'm not that old. Plus, things went south with Mitchell. "Hey, look," he said to me after I hadn't logged on for a few hours. "I don't want us to end badly, but I think we're drifting apart. I think it's best if we're just friends from now on." I opt to "charm" him, which costs four stars.
Before it's here, it's on the Bloomberg Terminal.
LEARN MORE