General Electric Wants to Act Like a Startup
Its FastWorks project aims to roll out products faster and cheaper
By
In a Manhattan office, a small team of engineers, marketers, and product designers is plotting the future of medical devices. With hopes of "disrupting" the market, the group is using a limited budget to streamline the development of a new PET/CT scanner while addressing customer concerns over price, performance, and ease of use. "The reason why TurboTax became so popular is because you didn't have to become an expert in tax regulation," one person says during a brainstorming session. "TurboTax for oncology!" another shouts.
It sounds like a challenge to the status quo by an underfinanced but quick-thinking new enterprise. Except this group works for General Electric, one of the world's largest corporations. The company founded by Thomas Edison in the late 1800s is taking a cue from Silicon Valley with a program, dubbed FastWorks, that's designed to get GE acting more like a 21st century startup.
"We've gotten complex, gotten bureaucratic, but I think this could be a way for people to get things done faster and smarter," says Wei Shen, general manager of the GE health-care group developing the scanner.
GE has enlisted tech entrepreneur Eric Ries to help develop FastWorks, based in part on his bestseller The Lean Startup. As detailed in the 2011 book, Ries's lean startup philosophy is designed to help companies foster innovation and hasten product development by building imperfect early versions, releasing them to customers, getting feedback, and then "pivoting," or adapting the products when necessary. Now GE is adopting that playbook to speed the rollout of products ranging from lightbulbs to gas turbines to refrigerators. The company has already trained 40,000 employees under the new initiative, one of the largest in GE's 122-year history.

FastWorks is a new direction for a company that has spent decades refining internal processes through programs such as Six Sigma, the continuous improvement strategy that captivated much of U.S. business in the late 1980s and '90s. While GE still uses those quality-control techniques, it has rolled out FastWorks across its business units. "This thing is the new Six Sigma," says Nicholas Heymann, an analyst at William Blair. "It's exponentially more significant than a traditional corporate restructuring. In this case, you're trying to transform how you do business."

Ries, co-founder of social networking company IMVU, never intended to work with large corporations before being approached at a launch party for his book by GE Chief Marketing Officer Beth Comstock, who oversees GE Ventures and leads growth efforts. She had heard the growing buzz around the lean startup movement and asked Ries to speak at a company gathering, culminating in a presentation for GE's top officers, including Chief Executive Officer Jeff Immelt. "I was really nervous," says the 34-year-old Yale-educated entrepreneur. "Here's how you know I was nervous: I wore a suit."
After Ries's presentation, the silent crowd waited on Immelt, who gave the green light on the spot. "Without his direct and personal executive sponsorship of this, there's no chance it would have happened," Ries says. "These ideas apply in any size company, in any industry, in any sector, but no one was really taking me seriously at the time."
The company embraced the strategy as the centerpiece of its cost-cutting "simplification" push, a broad effort to streamline its operations following the financial crisis. It has shed extraneous businesses, including NBCUniversal, and reduced its once-dominant finance operations.
GE has provided thousands of copies of both Ries's book and entrepreneur David Kidder's The Startup Playbook to its employees and now has more than 300 FastWorks-backed projects, up from about 100 late last year. In June the company's health-care unit created an officer-level position to oversee simplification. GE also has experimented with startup strategies including crowdsourced product designs.
"The problem these companies face is, as they get bigger, as they scale, things slow down," says Ranjay Gulati, an organizational growth expert and professor at Harvard Business School. "They lose speed because they have so many systems and structures and processes, and they lose the ability to take risks. GE's a smart company. They understand the pathology of bigness, and this allows them to be responsive."
Ries's philosophy has been reshaped for GE. The original concept was developed to help improve Web and software companies' ability to constantly update products already on the market. GE doesn't typically sell unfinished designs. Instead, it tests every version with sets of consumers to come up with a final design.
The lean startup movement has its detractors. Michael Sharkey, co-founder of San Francisco-based marketing automation company Autopilot, says the process actually stymies innovation by focusing on refining features rather than developing entirely new products. "There are severe drawbacks when you think about it creating the next Google," he says. While Sharkey acknowledges that there are benefits to the strategy, many large corporations can't move fast enough to take advantage of them. "A company as large as GE needs to run like a thousand separate startups in itself to succeed."
In each of its business units, GE has created a growth board, which approves or rejects potential FastWorks projects. Shen, whose team is developing the PET/CT scanner, felt as if she were on the TV show Shark Tank when she pitched the idea, which was initially rejected early this year because it involved building a prototype that would cost a few million dollars. She won approval after nixing the full prototype and cutting the projected cost by more than half.
If Shen's team followed tradition, it would have spent two to four years building a new product based mostly on basic market-research surveys. Under FastWorks, the group constantly takes its ideas to customers throughout the development process to learn what will sell and what won't, redesigning the scanner before devoting the time and money to creating a final product. The first two iterations cost a total of less than $300,000. Shen aims to have a product out in about half the normal time.
The customer feedback is invaluable, Shen says. "I can build a product to have the best image quality, but it may not be at the right price point. Or I can build a product that's so fast it can accommodate 30 to 50 patients a day. I can have a system that's 50 percent lower-cost," she says. "What's the right value proposition?"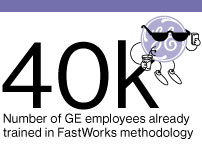 FastWorks can save several million dollars in development costs per project, GE estimates, meaning billions in possible savings before factoring in the potential for increased sales. The company now holds twice-monthly FastWorks workshops—often in the New York offices of Bionic, an innovation accelerator—for employees developing products. When Shen's teams convened there in July, a GE Aviation squad was meeting in an adjacent room to discuss ways to use aircraft data to improve fuel efficiency and reduce maintenance costs.
Early FastWorks projects include the high-output 7HA gas turbine, developed 40 percent more cheaply and two years faster than it would have been through traditional means; and a lightbulb with a built-in wireless dimming chip. The program was also behind the design of an oil well flow meter, which after a year in development is being commercialized in alliance with Chevron.
Comstock, the chief marketing officer, says FastWorks is about giving employees the freedom to try things that may not prove successful: "Fail fast, fail small." And fail they have. One of the first products developed under FastWorks—a French door refrigerator with no plastic parts—went through 18 iterations after the first was rejected by customers for poor lighting and color problems.
Management theorists say such reliance on customer-driven refinements will be copied by others. Steve Blank, a professor at the University of California at Berkeley's business school who has been involved in more than a half-dozen startups, including IMVU, says that just as the company popularized Six Sigma, the lean startup philosophy could spread. "GE's going to be the model for other industries who are grappling with the exact same problems."