Phosphorus, Algae, and What You Drink
The Clean Water Act must be updated to safeguard Americans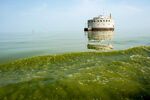 More than half a million people in the city and suburbs of Toledo, Ohio, got a break on Aug. 4: They were told it was safe to drink again from their taps. That was two days after they were warned their water posed a health risk because of toxins related to an algal bloom in Lake Erie, the source of the city's water.
Isn't it a little unnerving that one day you can't use your tap water to brush your teeth or wash dishes, let alone drink, because officials say it might cause damage to your liver and nervous system, and then the next day the problem has disappeared?
Unless the Clean Water Act and other environmental regulations are updated and steps are taken to mitigate the causes of algal blooms in the Great Lakes and the Gulf of Mexico, many Americans will rightly worry about the safety of their drinking water, and more bans such as the one in Toledo are likely. The key is reducing the amount of phosphorus flowing into rivers and lakes.
The science is well understood: Pollutants, mainly from agricultural runoff and to a lesser extent sewage-treatment plants, stimulate growth of algae during the warm summer months. The Great Lakes system, and Lake Erie in particular, is being stressed by phosphorus from agricultural runoff that the Clean Water Act was never designed to mitigate. The heavier-than-normal spring rainfall in the farming areas that drain into Lake Erie increased its phosphorus levels, worsening the normal algal bloom.
What's clear is the regulations aren't up to safeguarding the U.S. drinking-water supply. Rules that require stricter mandates for fertilizer application should be adopted. Lawmakers also should tie the availability of federal subsidies to farms, such as crop insurance, to farm-management practices that reduce runoff. In the meantime, cities such as Toledo will be stuck paying the bill as they spend more to monitor, test, and filter water.
Pollution of drinking water is the No. 1 environmental concern among Americans. That's something our political leaders can't ignore.
BOTTOM LINE -
To read Mark Buchanan on income caps and Cass R. Sunstein on the Founders and impeachment, go to: Bloomberg.com/view.
Before it's here, it's on the Bloomberg Terminal.
LEARN MORE