Taking AIG From 'Sucks' to 'Rocks'
Its new CEO wants to put the right price on risk
by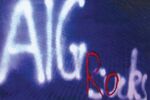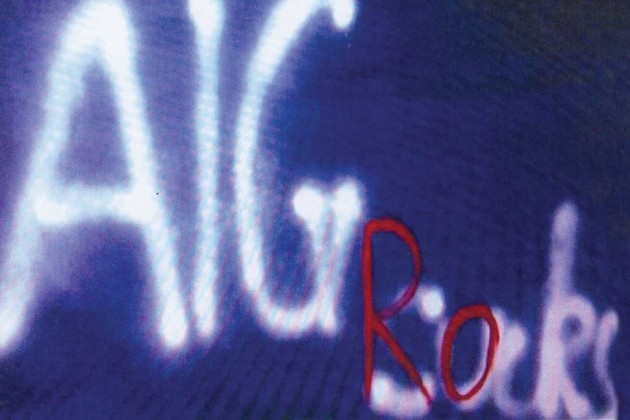 When Peter Hancock joined American International Group in 2010 as a top aide to Chief Executive Officer Robert Benmosche, one of his first challenges was decorating the blank walls of his office. AIG's collection of paintings tended toward dogs and ducks. Hancock's tastes lean abstract. So he picked up some spray paint, spread newspapers around the dining room of his home, laid out a 6-foot-by-4-foot piece of canvas, and set to work. Inspired by the widespread contempt for the bailed-out insurer, he sprayed a giant white "AIG Sucks" in almost childish letters on a blue background. Over the first two letters of "Sucks," Hancock painted a red "Ro," spelling out "Rocks"—expressing the aspiration that would occupy the next phase of his life.
On Sept. 1, Hancock, 56, now head of the property and casualty unit, will replace Benmosche, who is retiring. AIG has come a long way since its $182 billion bailout. It's repaid the government, sold off at least $75 billion of businesses and real estate, and refocused on its main units: global property-casualty and U.S. life insurance.
Hancock wants AIG to sell more car insurance in China, more life policies in Japan, and more travel insurance and health coverage worldwide. He sees opportunities to expand sales of commercial property insurance outside the U.S. His overarching goal is to make profitability as important to the company as market share. "The mission is to take what is still by many measures the largest insurance company in the world and make it the most valued," he says.
It won't be easy. In the three years Hancock has led the property and casualty division, insurance underwriting was profitable in only two quarters—most of the group's earnings came from returns on its investments. Now, after climbing for the past several years, price increases for commercial insurance are slowing amid increasing competition. At the same time, global demand for insurance is sluggish, mirroring the state of the world economy. And low interest rates limit returns on the funds AIG holds before paying claims. "AIG will be under more pressure to cut prices to maintain its share," says Josh Stirling, an analyst at Sanford C. Bernstein. "The P&C story is still a work in progress."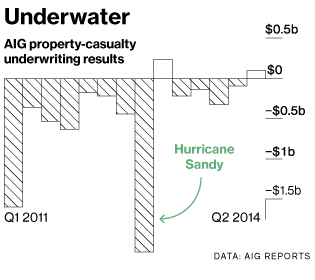 Hancock is a relative newcomer to the insurance industry. When he took over the property-casualty business in early 2011, he had his staff put together a 102-page pocket-size glossary of insurance terms to help get him up to speed. Yet Hancock has always focused on a concept that's at the heart of the insurance business: putting the right price on risk. "I view a sustainable growth in value of a company as always balancing profitability, growth, and risk," he says. "And companies that lose sight of any one of the three tend to run into trouble."
Hancock spent two decades at J.P. Morgan, where he played a key role in the development of credit default swaps, which in effect are insurance contracts on bonds. Coming to AIG, he saw that the traditional method of evaluating the returns on insurance—comparing claims payments and expenses with premiums—didn't recognize the cost of setting aside funds for years to cover future payouts. So he developed a metric to better reflect that cost: risk-adjusted profitability, or RAP.
Hancock's introduction of RAP helped AIG focus on profitability rather than sales volume. The measure has influenced every aspect of AIG's business, from how it chooses clients, to how it designs and sets prices for its products, to which businesses it focuses on. One of the biggest RAP-influenced moves was AIG's decision to retreat from the workers' compensation business, once one of its biggest lines. "Him pushing that really gave us the courage to move more quickly and more decisively," says John Doyle, who as CEO of AIG's commercial insurance business reports to Hancock. "It shined a bright light either in a good way or in a bad way on certain products and certain geographies."
As part of his focus on risk, Hancock built a group to use data the insurer has collected to improve policies, refine underwriting standards, and reduce claims costs. He hired Murli Buluswar, who has a background in statistics and economics, in 2011 to lead the unit, which now has 130 people, mostly new hires.
AIG is still catching up with rivals such as Travelers and Chubb in using data for pricing policies, says Cliff Gallant, an analyst at Nomura. Chubb and Travelers have long been more selective about the risks they take on, relying more on underwriting than investment returns to generate profits. Travelers allocates its funds to different lines of business based on the returns it expects those policies to produce.
Bill Winters, who worked alongside Hancock for more than a decade at J.P. Morgan, says he'll be the right person to hold AIG to a strategy that favors profitability over growth. "To run the nuts and bolts of the business that's very capital intensive," he says, "he's as good as anybody I've come across."
Before it's here, it's on the Bloomberg Terminal.
LEARN MORE