Eric Clapton's $1 Million 'Blackie' Guitar Moves to Times Square
By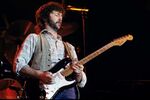 The world's second-most expensive guitar is taking up residence in New York this week. Guitar Center is putting Blackie, Eric Clapton's legendary Stratocaster, on permanent display at its new flagship store at 218 W. 44th Street in Times Square. The store opens Thursday, Aug. 7, and also features a "boutique" pedal shop, a team of craftsmen who will build you a custom Fender instrument, and 28,000 square feet of guitars, drums, keyboards, and DJ gear.
Guitar Center purchased Blackie at a Christie's auction 10 years ago for $959,540, making it at the time the world's most valuable guitar. So it remained until last December, when Christie's sold the Stratocaster that Bob Dylan played at the 1965 Newport Folk Festival for $965,000 to an unnamed buyer.


Dylan's Stratocaster has an intriguing history. Rolling Stone reports that the singer "left the guitar on a private plane, and when the pilot notified the songwriter's management, he never received a response. The Strat has remained in the pilot's family for nearly 50 years, and it was authenticated last year when his daughter, Dawn Peterson, brought it on the PBS program, History Detectives."
Clapton was more attached to Blackie, which he strummed from 1970 to 1985. According to Guitar Center, Clapton used a Stratocaster that he called Brownie for years. One day he was in a Nashville music store and found an array of vintage Stratocasters on sale at an irresistible price of $300 or less. The benevolent rock god left with them all, passing some on later to such friends as Steve Winwood and Pete Townsend. Clapton fashioned Blackie from the parts of those he kept. He played it at his Rainbow concert of 1973 and Live Aid in 1985. He displayed it proudly on the covers of his albums, such as "Slowhand" and "Just One Night."
Clapton finally sold Blackie in 2004 to raise money for the Crosswords Center, his drug and alcohol treatment program in Antigua. Presumably, Blackie is worth more than it was then. Maybe Guitar Center should put it up for auction and restore Blackie to its former position as the world's most expensive axe.
Before it's here, it's on the Bloomberg Terminal.
LEARN MORE