Poland Feels Pain of Russia Sanctions: Chart of the Day
Peter Laca and Radoslav Tomek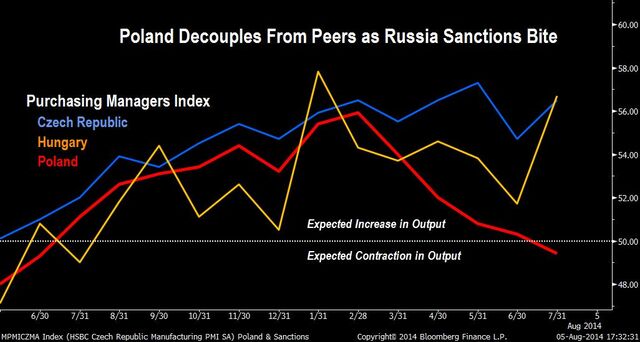 Escalating trade restrictions between Russia and the U.S. and its allies over Ukraine are inflicting more pain on Poland than on other major economies in the European Union's east because of its stronger trade ties with Russia, according to Citigroup Inc.
The CHART OF THE DAY shows the purchasing managers' index for Poland, the largest of the EU's post-Communist states, fell for a fifth consecutive month in July, decoupling from the Czech Republic and Hungary, the two next-biggest economies in central Europe. An index reading above 50 suggests an expansion of manufacturing performance, while a reading below 50 indicates a contraction in output.
Though Poland has been among the EU's strongest supporters of increased sanctions against Russia for its role in the bloody Ukrainian conflict, the nation is more vulnerable than other countries that have joined the EU since 2004. Russia has countered Poland's lobbying in Brussels with bans against Polish fruits and vegetables as of August, hurting producers.
"Poland's relatively strong links to Russia have made it the only country in the region significantly affected by what's going on with Russia and Ukraine," Piotr Kalisz, an economist at Citigroup's Polish unit Bank Handlowy SA, said on Aug. 4. "What differentiates Poland from the Czech Republic and Hungary is basically that Poland is more dependent on Russia and Ukraine in terms of exports."
Russia was the destination for 5.5 percent of Poland's exports last year, compared with a share of about 3 percent for the Czech Republic and Hungary, according to Citigroup calculations. Exports to Russia dropped 8.3 percent in the first five months of 2014 in zloty terms, data released by the Polish statistics office shows.
Poland needs to apply "as soon as possible" for EU compensation to local growers hurt by the Russian import ban on fruits and vegetables, Economy Minister Janusz Piechocinski said in a TVN24 BiS interview on Aug. 5. The ban may cut by half Polish food exports to Russia, which would otherwise have totaled about $1.6 billion this year, Piechocinski said.
Before it's here, it's on the Bloomberg Terminal.
LEARN MORE