CVS Cigarette Ban Will Drive Away $2 Billion in Sales
by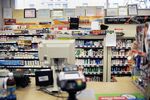 CVS Caremark earned a lot of praise and goodwill when it announced in February that it would stop selling cigarettes in its 7,700 stores—and it didn't come cheap. After the company's latest earnings report, we now have a real sense of the tobacco-free toll on the drugstore chain's business: $2 billion in lost revenue over a full year.
Executives confirmed that eye-popping estimate after a little prodding on an earnings call (PDF). In the second quarter, the company said, sales at the front end of CVS stores where the cigarettes have been kept dropped 0.4 percent. Some stores are still in the cigarette-selling business. The self-imposed deadline to remove all tobacco products doesn't come until October, so the modest drop in sales up front last quarter might come from stores that have stopped replenishing inventory.
CVS isn't just facing lost revenue from the sales of cigarettes—it's losing money on all the other stuff that those smokers might have bought. Plus, CVS has locked itself out of an emerging business. The company didn't stock e-cigarettes at the time of its tobacco-free announcement and said it will wait for guidance from the Food and Drug Administration before making a decision about selling them.
The loss of $2 billion in revenue won't put CVS into financial trouble. For starters, it's a $126 billion company and the country's biggest provider of prescription drugs. Obamacare has helped its prospects, too. CVS has been filling more prescriptions and its pharmacy-services business, which manages drug-benefit plans for insurers and employers, is growing. The company's profit last quarter rose 11 percent to $1.25 billion while total revenue rose 11 percent to $34.6 billion.
It seems fair to ask when its competitors might consider banning cigarette sales, too. So far, there's no word that they intend to.
Before it's here, it's on the Bloomberg Terminal.
LEARN MORE