WH Group Gains as Biggest Pork Producer Debuts in Hong Kong
Yuriy Humber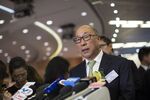 WH Group Ltd. rose on its debut in Hong Kong after the world's biggest pork producer raised HK$15.3 billion ($2 billion) in its second attempt at an initial public share sale.
The stock gained 7.4 percent to HK$6.66 at the close of trading, up from the offer price of HK$6.20 for the Luohe, China-based company. The benchmark Hang Seng rose 0.2 percent. On average companies that listed in Hong Kong this year rose 28 percent by the end of their first day of trading.
Asia now accounts for at least a quarter of global consumption of beef, pork and chicken, Bloomberg Intelligence analyst Thomas Jastrzab said in a report yesterday. China, home to about a fifth of the world's population, accounted for more than half of global pork consumption last year as rising wages change dietary habits, Jastrzab said, citing U.S. Department of Agriculture data.
"The higher demand may spur sales at WH Group, China Yurun and other meat processors," Jastrzab said in a July 31 report, referring to Nanjing-based China Yurun Food Group Ltd.
WH Group revived the public offering in July, after scrapping plans to raise as much as $5.3 billion in April. The IPO is the second-largest in Hong Kong this year and was the most-traded stock by value on the city's exchange today, according to data compiled by Bloomberg.
WH Group will use the money raised to repay part of the $4 billion in loans taken out to buy Smithfield Foods Inc. last year, the biggest U.S. acquisition by a Chinese firm.
Big Pork
The company, which changed its name from Shuanghui International Holdings Ltd. in January, is China's largest meat processing business, according to its website.
It also holds a 37 percent stake in Campofrio Food Group SA, the largest pan-European packaged meat products company, and makes products such as 'King of Kings' and 'Hot Dog with Corn.' WH Group brands include Smithfield, Farmland, Armour and Cook's, with produce spanning boiled hams, bacon, hot dogs and sausages.
The company's IPO was "moderately over-subscribed" for the stock portion alloted to international funds, while local retail investors asked to buy more than 50 times the shares offered, WH Group said in a statement yesterday.
Companies have raised $14.3 billion through IPOs in Hong Kong this year, more than twice that in the same period of 2013, data compiled by Bloomberg show.
BOC International Holdings Ltd. and Morgan Stanley managed the share sale, according to the prospectus.
Meat Scandal
The IPO took place amid a scandal over meat processing plant conditions in China.
A Chinese television station last month uncovered workers at a Shanghai subsidiary of food-processing giant OSI Group repackaging and selling expired meat to restaurant customers.
OSI clients including Starbucks Corp., Burger King Worldwide Inc., and KFC owner Yum! Brands Inc. have since severed ties with the firm's China suppliers.
Earlier this year, a coronavirus killed millions of pigs in the U.S., pushing up retail-bacon prices 10 percent to $6.106 a pound in June, the highest since at least 1980, government data show. Wholesale pork-belly costs doubled, reaching a record $2.0353 a pound in April, according to the U.S.D.A.
The surge in prices hasn't reduced demand. Bacon sales in U.S. outlets tracked by market researcher Nielsen N.V. rose 11 percent to $4.2 billion in the 12 months ending July 5.
Before it's here, it's on the Bloomberg Terminal.
LEARN MORE