Tunisia Needs U.S. Support as Arab Democracy Hope, Marzouki Says
Jeanna Smialek and Sandrine Rastello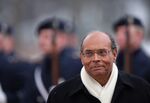 Tunisia needs more support from the U.S. and Europe to fight militants and spur an economic revival in the only democracy to emerge from the Arab Spring, President Moncef Marzouki said.
"We are a little bit disappointed because we didn't get the support, we expected more from Europe and from the United States," Marzouki said yesterday in an interview with Bloomberg TV Africa in Washington. He cited a request from the U.S. for helicopters to "tackle the problem of terrorism," and several aid conferences that produced "a lot of promises" that were never fulfilled.
Tunisia was the cradle of the 2011 Arab revolts, and it's managed to keep a democratic transition on track as much of the region slid into chaos. Elsewhere in North Africa, Libya is beset by feuding militias, while Egypt's army toppled an elected leader. Marzouki, by contrast, presided over an accord between Islamist and secular parties on a new constitution and elections due in October, pushing bond yields to record lows.
That doesn't mean it's all been smooth sailing for Marzouki, a 69-year-old former human rights activist who took over from the ousted Zine El Abidine Ben Ali in December 2011. Islamist militants have targeted politicians and security forces, as the government cracks down on radical clerics whose sermons fuel violence. Youth unemployment was among the spurs of the 2011 protests, and at about 30 percent it remains a source of potential unrest as the economy struggles to lure investors.
'Extremely Bad'
"We do know that foreign investment, national investment will never come to Tunisia unless there is security," Marzouki said, calling the economic situation "extremely bad." Stability is also key for tourism, with Tunisia still a popular destination for European visitors.
The International Monetary Fund, which is lending Tunisia $1.7 billion over two years, predicts growth of 2.8 percent this year, and estimated youth unemployment at 32 percent at the end of 2013. While "increased clarity at the political level" will boost investor confidence, growth is still too slow to make a "significant dent" in unemployment, IMF mission chief Amine Mati said last month.
A meeting of potential investors is scheduled next month. Marzouki said Tunisian's political transition is near completion, with the October parliamentary elections due to be followed by a presidential vote a month later. Since political parties agreed on a new constitution and interim cabinet in January, yields on government debt have dropped by more than 1.5 percentage points, to a low of 3.51 percent last month.
Marzouki said the promise of stability may help to lure financing that failed to materialize at similar investment events in the past.
'We'll Be Ready'
"What we hope for at this meeting is to tell our friends: 'Look, we'll be ready in two months' time, so could you be ready to finance a lot of our projects?'" Marzouki said.
President Barack Obama met with Tunisian Prime Minister Mehdi Jomaa in April, as the U.S. pledged $500 million in loan guarantees. That was "really, really helpful," and Tunisia will seek similar commitments next month, Marzouki said.
"Then we hope that the investment will come, and that Tunisia could be a bigger hub in Africa," he said.
Marzouki said militants are probably "planning to disturb elections," and Tunisia is seeking training for security forces and other types of support. "We need about 12 helicopters," he said. "Otherwise, we don't see how we can tackle the problem of terrorism. So we're discussing about having maybe one or two," though no deal has yet been reached, he said.
Attacks on security forces have spread, especially in the mountainous interior. Militants killed 14 soldiers at two checkpoints last month as the army fought to dislodge them from hideouts near the Algerian border.
'Success Story'
Other security threats include the chaos in Libya. Marzouki said that about 2 million Libyan refugees are now living in Tunisia, while several thousand Egyptians are trying to transit the country to return home.
Asked why his country has avoided the worst of the violence that has roiled Libya and other regional countries since 2011, Marzouki cited Tunisia's homogeneity, large middle class, educated population and strong civil society. He said its political progress offers hope for other Arab nations.
"Because of the structure of the society, Tunisia is probably the only country that could be a success story," he said. "And it must be a success story, because every Arab is watching Tunisia."
Before it's here, it's on the Bloomberg Terminal.
LEARN MORE