It's Not Just Critics of Israel Who Want to Cut U.S. Aid
By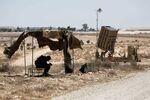 One of the very few bills that landed on President Obama's desk this week, after Congress left for its annual summer recess, was one authorizing $225 million in additional funding for the Iron Dome missile defense system Israel has been using to intercept rockets fired from Gaza. The bill passed the House last Friday, 395-8—as clear an expression of unanimity as it's possible to find today on Capitol Hill.
Yet some of Israel's strongest supporters have recently been calling for cuts in the $3.1 billion annual military aid that the U.S. supplies to the Jewish state. That puts them on the same side as some of Israel's strongest critics, though for opposite reasons. The pro-Israel argument for reducing American aid is that Israel would have more freedom to act is it pleases if it didn't have to answer to Uncle Sam. "The experience of the Obama years has sharpened the perception among pro-Israel Americans that aid can cut against Israel by giving presidents with bad ideas more leverage than they would otherwise have," Noah Pollak, the executive director of the Emergency Committee for Israel, told the Daily Beast in an article published last month.
The past few weeks of war in Gaza has brought the question of U.S. aid to the fore. The U.S. maintains a weapons stockpile inside Israel, and late last month the Pentagon released additional munitions for use by the Israeli military.
Back in January, Daniel Kurtzer, who served as U.S. ambassador to Israel during President George W. Bush's first term in office, said, "We may be reaching a point that after discussion of how to assure the security and intelligence cooperation, we can actually phase out the security assistance."
But Kurtzer is singing a different tune now that Israel is at war with Hamas. Kurtzer, who is a professor of Middle Eastern policy studies at Princeton University's Woodrow Wilson School, says in an interview, "There's a difference between looking at this issue in the middle of a war and looking at it more dispassionately." He says weaning Israel off military aid would be fine "if it were done over time in an environment of friendly dialog."
Jay Ruderman, a philanthropist who tries to educate Israeli legislators and government officials about the U.S. political environment, is even more dubious about cuts in U.S. aid to Israel. "It's a good question, theoretically," says Ruderman, president of the Ruderman Family Foundation, while quickly adding, "The view that Israel can now go on its own and cut ties with the United States is sort of a naive, hypothetical type of viewpoint at this time."
Supporters of Israel may not have the luxury of postponing the debate if those on the other side get their way. The U.S. Campaign to End the Israeli Occupation proposes four options to Congress, including limiting use of U.S. weapons to "Israel's sovereign territory," which would exclude Gaza; and tying U.S. aid to a freeze on settlements in the West Bank or a lifting of import restrictions on Gaza.
Before it's here, it's on the Bloomberg Terminal.
LEARN MORE