Subpoena Could Drag the NFL into Cheerleader Wage-Theft Cases
By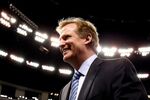 Roger Goodell, the NFL commissioner under scrutiny for his response to domestic violence allegations against a running back, now faces a further potential headache: a subpoena seeking to depose him on the league's role in cheerleaders' pay (or lack thereof).
Attorney Christopher Marlborough, who represents former Buffalo Bills cheerleader Caitlin Ferrari in one of several lawsuits underway over alleged unpaid wages in NFL cheerleading, expects the NFL to respond on Tuesday by attempting to quash the subpoena. An NFL spokesperson declined to comment on Monday evening.
Ferrari's lawsuit alleges that she and other members of the Bills' squad, the Buffalo Jills, "worked an enormous amount of uncompensated time," had to pay for expenses totaling hundreds of dollars, and were misclassified as independent contractors when they were, in fact, employees. Named defendants include Buffalo Bills, Inc. as well as multiple companies that have been involved in managing the Bills. (The squad suspended operations in April.) Marlborough says a document submitted by the Bills as part of its defense suggests grounds to add the league as a defendant
That document, a contract (PDF) between the Bills and Citadel Broadcasting that was signed in 2009, bears Goodell's signature (under "APPROVES:"). It specifies that Citadel will have cheerleaders sign an attached agreement, which includes language stating that the Jill agrees that the league can use her likeness without paying her, that she is an independent contractor and not an employee, and that she "will not receive payment for appearances at the Buffalo Bills football games."
"We were very surprised when we saw that document," says Marlborough, because of what it suggested about Goodell's involvement. "Odds are they are going to say he is too important to show up," in response to the subpoena, he adds. "But apparently not too important to sign this agreement."
While the Bills submitted that document in an effort to prove that the Jills weren't employees and the suit should be dismissed, it didn't persuade New York State Supreme Court Judge Timothy Drury, who wrote in a decision (PDF) rejecting motions to dismiss that "The minute control that Citadel and [fellow defendant] Stejon exercised over the work of the cheerleaders supports the conclusion that they were not independent contractors but employees."
Ferrari's lawsuit is one of two by former members of the Buffalo Jills. Lawsuits have also been brought this year by women who have been cheerleaders for the Oakland Raiders, Cincinnati Bengals, and New York Jets. One current Raiders cheerleader has also filed a wage suit that names the NFL as a defendant. The league told the Los Angeles Times that it had nothing to do with cheerleaders. "There is that one person in Oakland that stepped forward," Ferrari said in May, "and I think it's given more—especially me—the courage to actually step up and say this isn't right."
Before it's here, it's on the Bloomberg Terminal.
LEARN MORE