Sprint Said to End T-Mobile Discussions, Names New CEO
Alex Sherman, Cornelius Rahn and Matthew Campbell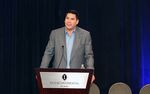 Sprint Corp. dropped 19 percent after a deal to merge with T-Mobile US Inc. collapsed, leaving Sprint with the challenge of stemming customers losses and finishing the upgrade of its aging network on its own.
The talks ended because regulatory concerns outweighed the potential benefits of combining the third- and fourth-largest U.S. wireless carriers, a person familiar with the talks said. Sprint named Marcelo Claure, the 43-year-old founder of mobile-phone distributor Brightstar Corp., as its chief executive officer, according to a statement today.
The decision to drop the merger plan ends a nine-month effort by Japanese billionaire Masayoshi Son, whose SoftBank Corp. controls Sprint, to create a stronger rival to Verizon Communications Inc. and AT&T Inc. Claure now needs to make the carrier's prices more competitive and restore the brand after it was the only major carrier to lose subscribers last quarter.
"Sprint is the clear loser here," Craig Moffett, an analyst at MoffettNathanson LLC, said in a note to clients today. "Son and Sprint will need to refocus squarely on improving results internally, and that won't be easy."
Sprint's problems are largely structural, not cultural, Moffett said, questioning how much difference a new CEO can make.
Sprint, based in Overland Park, Kansas, slumped 19 percent to $5.90 at the close. Today's decline wiped out about $5.4 billion in market value. T-Mobile fell 8.4 percent to $31.06, the steepest decline since May 2013.
Formidable Competitor
Son had envisioned combining Sprint and T-Mobile to create a formidable competitor with the financial power and airwaves to serve more customers and eventually deliver faster broadband to consumers more cheaply than cable.
T-Mobile was willing to move forward on a deal with Sprint if it ceded on sticking points including over the financing structure, said people familiar with the talks, who asked not to be identified because the information is private. While both companies viewed approval for a deal as a long shot, given the current administration's stated goal of having four competitive wireless companies in the U.S., Sprint ultimately decided the regulatory environment was prohibitive, one person said.
The companies couldn't agree on how much SoftBank should kick in to finance the deal, or how much Sprint should raise, which would be on the new balance sheet of the combined company, one person said. They also couldn't reach an agreement on how much of the financing should be bridged, the person said.
More to Lose
The collapse of the deal leaves Sprint in more of a bind than T-Mobile. While Sprint finally ended more than six years of losses with a $23 million profit in the fiscal first quarter, it still lost 245,000 contract subscribers. T-Mobile CEO John Legere has led the way on lowering prices to lure more customers, and last week raised its forecast for subscriber growth this year. T-Mobile added 908,000 monthly branded customers in the three months through June.
"If Sprint can't buy T-Mobile it will be difficult for Sprint to do business," Yoshihiro Nakatani, a senior fund manager at Asahi Life Asset Management Co. based in Tokyo said by phone. "I'm concerned about Sprint's operations."
At Sprint, Claure will replace Dan Hesse, who has led the company since 2007 and may get severance pay exceeding $40 million in cash, stock and benefits. Among Claure's tasks: finishing the rollout of high-speed services
Scott Sloat, a spokesman for Sprint, declined to comment, as did Anne Marshall, a spokeswoman for T-Mobile. Matthew Nicholson, a Tokyo-based spokesman for SoftBank, declined to comment. The Wall Street Journal reported earlier that Sprint dropped its plans to buy T-Mobile.
Deutsche Telekom
Without Sprint, T-Mobile's parent Deutsche Telekom AG will probably have to continue running the smaller U.S. wireless carrier as a standalone, a strategy likely to weigh on earnings. T-Mobile is also set to reject an alternative bid from France's Iliad SA, other people have said, meaning Deutsche Telekom will have to stay in a market where it was unable to establish a competitor capable of matching the clout of larger peers after a decade of effort.
Deutsche Telekom's shares dropped 2.8 percent to 11.54 euros in Frankfurt.
Dish Network Corp. Chairman Charlie Ergen may see the collapse of the deal as an opening.
Ergen, who bid for Sprint last year and lost to SoftBank, said in May that he was willing to watch the Sprint pursuit of T-Mobile from the sidelines and wouldn't get in a bidding war. He did say then that T-Mobile was of strategic interest to Dish if there was an opening -- for instance, if SoftBank's bid were blocked by regulators.
'Drunken Fools'
"I wasn't a very good poker player, but when a bunch of drunken fools were throwing money around occasionally I was able to pick up the pot at the end of the day," Ergen said at the time. "My recommendation to our board would probably be let's see what happens."
America Movil SAB, the Mexican telecommunications company that is studying how to break apart its wireless and and landline phone operations, also could make a run at T-Mobile.
A representative for Dish and a press official for America Movil declined to comment on their possible interest in acquiring T-Mobile.
Turning Down Iliad
T-Mobile intends to turn down Iliad's proposal, people familiar with the matter said yesterday, putting pressure on the French telecommunications company to raise its offer.
Iliad, which has offered $15 billion in cash for 56.6 percent of T-Mobile, is seeking partners to help finance its bid and allow it to make an offer for a larger stake, another person said. Iliad's shares fell 5.7 percent to 178.20 euros in Paris.
T-Mobile and Sprint appeared close to a transaction in June, after both companies reached basic agreements on price, capital structure and termination fee, people familiar with the talks said then. The terms were never formally set in stone, and T-Mobile pushed to improve the particulars in its favor, including the price per share, three people said yesterday.
SoftBank fell 3.5 percent to 6,972 yen in Tokyo trading, the lowest close since May 23. The shares have declined 24 percent this year.
Before it's here, it's on the Bloomberg Terminal.
LEARN MORE