business
The NFL Passes Out Crippled Surface Tablets to Quarterbacks
By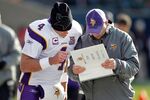 The digital revolution is finally coming to the NFL—sort of. The league's preseason kicks off Sunday, and the Hall of Fame Game between the Buffalo Bills and the New York Giants will be the first game in which tablet computers are allowed on the sidelines. Thirteen Microsoft Surface tablets will be present on each sideline, and the coaches in each box will have access to another dozen.
But just as the NFL preseason is football in name only, the devices that the players will be using aren't tablets in any normal sense of the word. The league reached a $400 million deal with Microsoft last spring to make its Surface tablets the exclusive computer of the NFL sideline, albeit with several conspicuous alterations made to the company's standard tablets. The NFL's Surface tablets have had their cameras disabled and can connect only to a private in-stadium wireless network. The devices can only run a single program, which allows people to browse through digital game photographs.
It's not exactly a groundbreaking moment of innovation in football. The photos displayed on the tablets are in now color and arrive to the sideline slightly faster than before. The tablets also allow annotations to be made on the screen, and specific plays can be saved for later review. Other than that, there's no difference between the tablets and those binders you've always seen quarterbacks poring over.
There are protective modifications too, made in hopes that the 13 Surface tablets might actually make it through a football season. The NFL versions are bulkier than their consumer counterparts, covered with a thick rubbery coating with waterproof screens.
Allowing even these neutered tablets on the sideline required the NFL to alter its rules. Football is a game of information—with a history of espionage—and the introduction of any new kind of information is exhaustively regulated. Until this season the NFL has forbidden the use of devices that can record or play video, as well as "any type of computer," during warmups and games. Microsoft worked with the league's competition committee to ensure that there was nothing about the Surface tablets that might give savvier teams an advantage.
Teams won't have much of a chance to game this system. The tablets remain the property of the NFL. Just before kickoff, the devices are handed over the to each team and remain in each team's possession only for the next several hours. When the game ends, the tablets are put away and spend the next six days in locked, temperature-controlled carts.
Before it's here, it's on the Bloomberg Terminal.
LEARN MORE