New War Risk on Russian Fringe Amid Armenia-Azeri Clashes
Sara Khojoyan, Zulfugar Agayev and Henry Meyer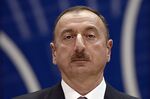 The leaders of Armenia and Azerbaijan may meet this week in a bid to defuse escalating tensions between the two countries after at least 18 soldiers were killed in the worst clashes in two decades.
Armenian President Serzh Sargsyan will hold talks with his Azeri counterpart, Ilham Aliyev, in Russia's Black Sea resort of Sochi on Aug. 8-9, Armenian Prime Minister Hovik Abrahamyan said on the government's website. Azerbaijan has yet to agree to the negotiations, ANS TV reported, citing Novruz Mammadov, deputy head of Aliyev's office. President Vladimir Putin plans separate meetings with the two leaders at the end of the week, Russian Foreign Minister Sergei Lavrov told Itar-Tass.
The skirmishes between the South Caucasus countries, which border Turkey and Iran, flared amid the worst geopolitical standoff since the Cold War between Russia and the U.S. over the conflict in Ukraine. The fighting in the past week in the disputed region of Nagorno-Karabakh has been the deadliest since the two former Soviet states signed a cease-fire in 1994.
"We hope that serious arrangements will be reached during the meeting," Abrahamyan said. "We are not afraid of war, I just think it is not clever to solve problems with wars in the 21st century."
A renewed war between Azerbaijan, an ally of the U.S. and Turkey, and Russian-backed Armenia has the potential to put NATO directly at odds with the government in Moscow, according to Timothy Ash, a London-based economist for emerging markets at Standard Bank Group Plc.
'Re-Arming Rapidly'
"Militarily, Armenia is still thought to have superiority, given Russian backing, but with its rising oil wealth, Azerbaijan has been re-arming rapidly," Ash said yesterday by e-mail.
With Azerbaijan's forces restrained by the fear of Russian retaliation, the message is that "Russia is important in the region, and its views need to be taken account of everywhere in the post-Soviet space," Ash said.
Facing off are 20,000 Armenian and Azeri troops, dug into World War I-style trenches sometimes only 100 meters (330 feet) apart, according to the Carnegie Endowment for International Peace.
The escalating death toll since July 31 has inflamed tensions between landlocked Armenia and its eastern neighbor Azerbaijan, the former Soviet Union's third-largest oil producer and the only route for Caspian energy to western markets that bypasses Russia.
Azeri Flights
Azeri fighter jets were seen in the region, the country's APA news service reported. Vaqig Dargahli, head of the Defense Ministry's press service, confirmed reports of aircraft flying near the front line and said these were "pre-planned" flights.
The European Union is "very concerned" by the incidents, it said in a statement yesterday.
"We call on both sides to immediately respect the cease-fire, refrain from the use of force or any threat thereof, and continue efforts toward a peaceful resolution of the Nagorno-Karabakh conflict," it said.
Russia and its international partners are making "considerable efforts" to help the opposing sides reach an agreement on the political principles needed to settle the conflict, Lavrov said in an interview with Itar-Tass.
"Undoubtedly we are alarmed at what's going on at the so-called contact line," Lavrov said. "Both sides are very emotional in how they perceive the conflict."
In Dispute
Armenians took over Nagorno-Karabakh, a mountainous enclave about the size of Rhode Island, and seven adjacent districts from Azerbaijan in a war after the Soviet Union's collapse in 1991. More than 30,000 people were killed and over a 1.2 million displaced before Russia brokered a cease-fire in 1994.
With historical and cultural ties to both countries and demarcated as part of the Azerbaijan Soviet Socialist Republic by the Soviets as an Armenian-majority autonomous region, Nagorno-Karabakh remains internationally recognized as part of Azerbaijan. Four United Nations Security Council resolutions were passed demanding an Armenian withdrawal from Azeri territory adjoining Nagorno-Karabakh.
About 700,000 Azeris were forced to leave the districts, 200,000 Azeris left Armenia and more than 360,000 Armenians fled Azerbaijan. The two nations' presidents met in November in Vienna for the first time in two years.
Turkey, Israel
Azerbaijan has forged closer ties with Israel and NATO-member Turkey and increased defense spending 27-fold to $3.7 billion a year in the past decade, outlays that exceed Armenia's annual budget. Armenia hosts a Russian military base in its second-biggest town of Gyumri, near the Turkish border, and Russian troops guard Armenia's borders with Iran and Turkey.
Azerbaijan, which signed a $45 billion contract in December with a BP Plc-led group to pipe natural gas to Europe, has repeatedly threatened to use force to regain control of the territory should peace efforts fail. Aliyev said in January he had "no doubts" that Azerbaijan will "restore its territorial integrity."
Azerbaijan's Foreign Ministry accused Armenia of "provocative" actions and said it "bears full responsibility for the evolving dangerous situation," according to a statement on the ministry's website.
Nagorno-Karabakh's defense chief, Movses Hakobyan, said that an Azeri military intervention had forced the Armenian side to respond.
Endangering Truce?
The goal is "to explain that their steps will bring us back to 1992-1994," he said today on Armenian public television.
The U.S., France and Russia, which are leading efforts to resolve the Nagorno-Karabakh dispute, urged Azerbaijan and Armenia to take immediate action to defuse tensions and respect the truce, as well as resume negotiations.
Companies led by London-based BP have invested more than $40 billion in Azerbaijan's oil and gas fields. Azerbaijan can pump as much as 1.2 million barrels a day of oil to Turkey through the Baku-Tbilisi-Ceyhan pipeline, which allows supplies to bypass Russia, and at its closest point lies about 50 kilometers (30 miles) from Nagorno-Karabakh.
Thirteen Azeri and five Armenian troops were confirmed killed in clashes from July 31 to Aug. 2. Another Azeri serviceman was killed Aug. 3, according to Nagorno-Karabakh's armed forces. One Armenian soldier was killed today, the news.am website reported.
Crimean Spillover?
Russia's annexation of the Ukrainian peninsula of Crimea in March and the continuing pro-Russian separatist rebellion in eastern Ukraine is inflaming the situation in Nagorno-Karabakh, Thomas de Waal, senior associate at Carnegie in Washington, said in an analysis posted on the research group's website in June.
"In this context, people are wondering not about whether Karabakh creates a precedent for Crimea but whether it works the other way round," de Waal said. "The truth may be that Crimea has placed Karabakh in a new vicious circle of destructive politics."
With Putin "cynical" about the chances of pursuing peace talks between Azerbaijan and Armenia, the chances of a diplomatic breakthrough are low, according to the Carnegie analyst.
As Azerbaijan bolsters its army with weapons such as drones, multiple-rocket launchers and attack aircraft, "we can be certain that a new conflict, however small, would be vastly more destructive than that of the 1990s," he said.
Before it's here, it's on the Bloomberg Terminal.
LEARN MORE