Why China's Second-Baby Boom Might Not Happen
Christina Larson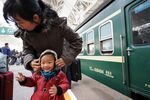 Last November, China announced the loosening of its restrictive one-child population policy: Couples would soon be permitted to have two children so long as one parent was an only child. Government planners predicted that roughly half of China's 11 million eligible couples would chose to have a second child within five years, and investors predicted a boom in sales of diapers, baby formula, and educational toys in China.
The policy change has been rolled out in 29 of China's 33 provinces and regions, yet by the end of May only 271,000 applications for permission to have a second child had been submitted. Many came from older mothers concerned not to lose their chance. At an agency in Beijing's Tuanjiehu neighborhood that connects parents with maternity nannies, staff said that the majority of requests pertaining to second children came from women in their late 30s.
Six months into the new policy is still too early to judge the ultimate impact. But experts now express more modest expectations. "Every metric thus far indicates the loosening isn't leading to a baby boom," says Mei Fong, author of a forthcoming book on China's population policies. With rising costs of urban living, Chinese couples are deliberately limiting family size for reasons similar to those depressing fertility in Taiwan, Japan, Korea, Singapore, and Western countries.
"There's also been a lot of complaints about the incredible layers of bureaucracy you have to go through to get this permission [for a second child], which is another barrier," says Fong, although she sees the government moving to smooth the application process.
Fong also thinks more pro-natal policies might help. Chinese law currently requires employers to grant women 98 days of paid maternity leave—a less-generous standard than in Canada and most European countries, but more liberal than in the U.S., which has no mandate for paid maternity leave. (Check out this handy global comparison map from the Atlantic.)
"It's too little, too late," says Cai Yong, a demographer at University of North Carolina at Chapel Hill, of China's new population measures. "It probably won't have that much impact on fertility itself." That means China's best demographic years are already behind it. In 2010, 8.9 percent of China's population was aged 65 or older; by 2020, the figure will reach a quarter. Two years ago, the absolute number of people in China's working-age population dipped for the first time.
There's only one small bright spot in China's otherwise bleak demographic outlook: The dangerous preference for male babies—enabled by ultrasound technology and sex-selective abortions—appears to have finally peaked and begun to flatten. In 2004, 121.2 boys were born for every 100 girls in China. Last year, however, the ratio was 117.6, and Cai predicts it will reach 110 within a decade. That's still unnatural, but at least the trend is in the right direction.
Before it's here, it's on the Bloomberg Terminal.
LEARN MORE