Evercore Said Planning to Buy ISI for Up to $401 Million
Zeke Faux and Matthew Monks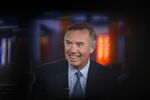 Evercore Partners Inc. plans to buy International Strategy & Investment Group LLC, the closely held research firm co-founded by Ed Hyman, in what would be the investment bank's biggest acquisition, according to two people with knowledge of the negotiations.
Evercore intends to issue as many as 8 million shares, with about 70 percent of the payout tied to five-year performance targets, one of the people said, asking not to be named because the firms don't plan to announce the acquisition until early next week. The deal would be valued at about $401 million based on Evercore's $50.13 closing share price today. The shares fell 8.1 percent, the most in almost three years.
"It could be worth as much as $400 million, depending on how the earn-out is structured, and how stringent the contingencies are," said Espen Robak, president of New York-based Pluris Valuation Advisors LLC, which specializes in valuing illiquid assets such as stock options and restricted securities. If the business misses performance targets, "it could be worth substantially less than that," he said.
Adding ISI, which sells research about stocks to hedge funds, would help New York-based Evercore expand its trading business. Publishing more equity research is a priority that will help Evercore generate more business underwriting stock offerings, Chief Financial Officer Robert Walsh said in a June presentation.
'More Expensive'
Evercore, which makes most of its revenue from advising companies on takeovers and restructurings, has been expanding into some other areas. Last month the firm posted its seventh straight quarterly increase in assets under management and said it hired two bankers to lead a European debt advisory business.
Dana Gorman, an Evercore spokesman, declined to comment, as did ISI President Vinayak Singh.
"It seems like they're using their equity as currency, which in this low-interest-rate environment is more expensive than borrowing," said Kevin Kelly, chief investment officer at Bronxville, New York-based Recon Capital Partners LLC, which manages about $150 million and doesn't own Evercore shares. "You would have to see what the performance metrics are to truly value it, but at first blush it's $400 million."
Equities Business
Hyman, 69, built a following as he won Institutional Investor magazine's poll for the best economist on Wall Street for more than 30 years. He started adding analysts who research companies rather than economics about four years ago after the mortgage market's collapse led the biggest Wall Street banks to pull back from markets they once dominated, like stock trading.
Evercore's equities business, which is partially owned by employees, will be merged with ISI into a new unit, to be called Evercore ISI Institutional Equities, one of the people said.
Hyman will stay on as chairman of the new unit for at least five years, the person said. Hyman owns at least 75 percent of the brokerage he co-founded in 1991, according to Financial Industry Regulatory Authority records.
Before it's here, it's on the Bloomberg Terminal.
LEARN MORE