pursuits
Building the Whole Foods of China
Tony Zhang, farmer and retailer, is expanding his organic empire. Can his luxury offerings improve the country's food system?
Amanda Little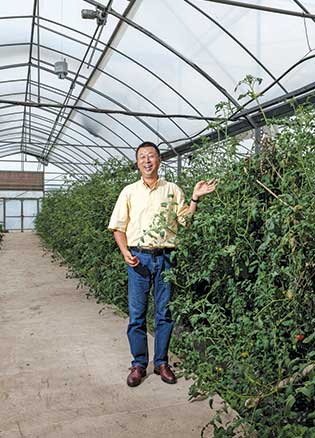 The cavernous packaging floor at Tony Zhang's flagship Nanhui farm, 40 miles west of his Shanghai headquarters, looks like a set from Barbarella—all plexiglass and stainless steel. Workers wear coveralls, gloves, and hairnets as they spray piles of fresh-picked produce with water from hoses that hang from the ceiling. Other employees in matching jumpsuits hand-dry the fruits and vegetables and place them in bags that bear the motto "Organic Starts From Tony's Farm." Across the room, in a glassed-in laboratory, goggled scientists test samples of each crop for bacteria and chemical residues.
As he strides onto the floor, Zhang, 51, is immaculate in an olive blazer, white T-shirt, and tailored jeans. He greets Abby Ding, his new director of operations, who oversees packaging and distribution, and the two begin discussing Zhang's quality-control standards. Ding gestures to a bag of carrots grown at Nanhui, an urban farm with almost 300 acres of fields and greenhouses. Inside the plastic are 11 perfectly conical carrots and one slightly gnarled one. Zhang frowns the way a parent might at an impossible child. He removes the rogue carrot and chucks it in the reject pile.
"But isn't that the way a carrot naturally grows?" asks Ding.
"Yes," Zhang replies, "but we cannot sell it." Carrots must grow perfectly straight if you are charging top dollar, he tells Ding, recounting a complaint from a customer who found a snail on her head of lettuce. "Of course the snail is natural, a sign of healthy soil," he says. "But our customer didn't see it that way."
Such are the dictates of the luxury market. And Zhang's organic vegetables are most certainly luxury items in China. They aren't Prius-caliber luxury, but Tesla-caliber luxury—so there's little margin for error, and customers expect perfection.

Given the explosive growth of China's urban elite in recent years, there's money to be made catering to finicky demands. Since 2009, Zhang's customer base has grown 20 percent to 50 percent a year. Zhang has reeled in $40 million from Western and Chinese investors and millions more in government subsidies. His company generates revenue of $18 million to $24 million a year, and he says he now runs one of China's largest organic farming and retailing operations, spanning thousands of acres across eight provinces.
"I want to build the Whole Foods of China," he says later, sitting on a terrace outside his downtown Shanghai office, sipping a glass of honeydew juice the color of kryptonite. He gushes about the quality of his melons: "They are the best you have ever tasted." Zhang has a penchant for braggadocio (his gleaming silver Bentley is parked not 35 feet away on the pedestrian walkway), but he also has legitimate standing in China's foodie world. Before founding Tony's Farm, he was the owner of Tony's Spicy Kitchen, a popular restaurant he expanded to 33 locations in six years. Zhang plans to scale up his farming enterprise just as aggressively.
"I admire the model of Earthbound Farm," he says, referring to the California-based company founded in 1986 that now has 53,000 acres producing organic fruits and vegetables on three continents. "It took 28 years to grow the company [to its current size]. I am confident it will take me 10 years to become as big as Earthbound."
Zhang's business model, however, differs from that of Earthbound, a wholesaler, and of Whole Foods. Tony's Farm has no physical store. Instead, its almost 100,000 subscribers—individuals, families, companies, schools, restaurants, boutique markets, and large retailers in Shanghai and Beijing—submit their orders online, and the company delivers the food, grown on its farms, within 24 to 48 hours. Most subscribers prepay and get weekly deliveries of whatever is in season, staples such as carrots, tomatoes, peppers, and berries, along with Chinese delicacies like red amaranth leaves, sponge gourds, purple begonia greens, wood-ear mushrooms, and yardlong beans. They can also order organic meats, eggs, oils, grains, and pantry products that Zhang sources from other suppliers.
Filling the roles of farmer, e-retailer, and distributor has its challenges. "When I started in the organic industry, people thought I was crazy," Zhang says. "China's water and land has been contaminated. The cleanup comes at great expense." Zhang has had to shoulder the dizzying price of cleaning polluted soil and water—which he says has added up to hundreds of millions of dollars over the past eight years. And unlike most farmers, he's also had the enormous expense of building and maintaining a "farm-to-kitchen" logistics system to store and transport produce from fields to customers' homes. He passes these costs on to consumers: His prices are about three times the average for conventional Chinese produce (the equivalent of about $2.65 per pound vs. 80¢). Earthbound and Whole Foods customers, by comparison, pay a much smaller premium. But his consumers will shell out for safety and superiority, he says: "Trust and quality are the DNA of our brand."

At a time when China is widely criticized for its pollution-choked cities, toxic waterways, and soaring cancer rates, Zhang sees his enterprise, at least in part, as a form of public-health advocacy and environmental do-goodism. His healthy products, he says, are necessities, not frivolities. But to what extent can selling high-end eggplants to China's 1 Percenters really improve the nation's environment? Is Zhang mobilizing a broader shift toward sustainability in China or securing a niche market?
 
 
Zhang's customers are understandably concerned—if not totally freaked out—about China's food system. In recent years inspectors have reported arsenic in apple juice, formaldehyde on cabbages, rice laced with cadmium, diseased pigs sold as fresh pork, rat meat sold as lamb, watermelons exploding from chemical growth accelerators. "Two hundred million Chinese every year get sick from bacterial contamination of food," says Junshi Chen, senior adviser to the China National Center for Food Safety Risk Assessment. In the last decade, Chinese authorities have executed two workers for food-related crimes and imprisoned thousands more.
Solving the problem may take a long time: China has more than 100 million commercial farms, most of which span only a few acres (by comparison, there are 2 million in the U.S.). It's all but impossible for Chinese authorities to enforce standards in a food system so decentralized. To maximize yields, millions of Chinese farmers are applying more than double the U.S. allowable levels of pesticides and fertilizers. And many are planting in soil heavily contaminated with mercury, nickel, and arsenic.
The food-safety problem stems in large part from the nation's broader environmental quagmire: Rampant pollutants from mines, power plants, and factories are making their way into the country's fields. China has 20 percent of the world's population and only 9 percent of its arable land. The ministries of agriculture and technology have ponied up trillions of yuan in subsidies to help farmers speed up land and water cleanup. Zhang has benefited handsomely from this. "The government builds the stage that we act on," he says. "It is a very good relationship."
A growing number of competitors are vying for a slice of China's nascent health-food market. Organic certifications more than doubled between 2009 and 2013, according to government data, even as the certification process has become more costly and stringent. Sales of organic foods produced on Chinese farms soared during that period, reaching 80 billion yuan ($13 billion) in 2012. Certified-organic products represent less than 1 percent of the nation's total food sales. In Europe and the U.S., organic products account for 6 percent to 8 percent.
Chinese farmers and retailers are entering the fray alongside brands from Europe, Australia, New Zealand, Japan, and the U.S. Wal-Mart Stores has been ramping up its organic offerings in China and will triple its spending on food safety there, to $48.2 million, by 2016. U.S. dairy company Organic Valley, which entered the market in 2000, now sells millions of cartons of organic milk in China per year. Given taxes and tariffs, each carton sells for more than twice its U.S. price, and many times more than conventional local milk. "Brand matters to Chinese consumers," says Pete Bassett, Organic Valley's global sales director. "Even with the high premium, our sales are doubling every year."
Among the Chinese brands that have begun to gain ground are online organic retailers such as FieldsChina.com, which delivers products to 200 cities in China, and KateandKimi.com, which both farms and sells organic produce and is popular among young consumers. These companies were founded by Western-born entrepreneurs. They cater to China's expat populations through English-language websites and with special product offerings such as bagels, Duncan Hines cake mixes, and Hellmann's mayo. While a small fraction of Tony's Farm subscribers are expats, Zhang isn't going after Westerners.
Like Zhang, Tom Chen, the senior manager of Mahota Farm, another fast-growing Shanghai-based organic farming business, foresees a broader shift toward sustainability in the Chinese food system: As public awareness grows, there's the unavoidable reality that conventional farms will put themselves out of business if they don't adopt more efficient growing methods. "Crops fail when you run out of clean water or grow in soil damaged by too many pesticides and fertilizers," he says. Mahota Farm generates profits from the 20,000 pigs it raises for organic pork sales and invests them in organic crop production. Farms like Mahota and Tony's that start out with extra capital "have freedom to experiment with new technologies and methods for sustainable farming that's radically efficient," says Chen. The best of this tech will eventually trickle down into mainstream farms, and "that benefits everyone," he says—reducing water use and pesticides, cutting farmers' costs, improving human health and the environment.
China has four designations of food labeling for "sustainable produce," says Manuela Zoninsein, CEO of Beijing-based Smart Agriculture Analytics. The top category is "organic," one step down is "green," then "ecological." The fourth is "nonharmful." Zoninsein sees organic remaining an elite category and the others becoming widely accessible. "As organic methods improve," she says, "that in turn will influence these broader-reaching categories."
Even if the organic market remains a niche, it's still sizable by Western standards, says Organic Valley's Bassett. Just 1 percent of the market would encompass the grocery bills for almost 14 million consumers in China's eight wealthiest East Coast cities. If it gets to 5 percent, that's 70 million customers. "Our potential market is very big," Zhang says.
 
 
Zhang grew up in a small village outside the city of Yibin in Sichuan province. It was the kind of setting you see on postcards: emerald mountains, bamboo forests, and waterfalls. Like all Chinese of his generation, Zhang was an only child, and he spent his free time hiking and exploring outdoors.
His parents and grandparents were farmers. "I had a special feeling about agriculture growing up," he says, recalling the steady, natural rhythms of farming.
Zhang graduated from the Sichuan Agricultural University at 19. He worked in the local ministry of agriculture within the Yibin government, moving to Shanghai at 28 to work for Shanghai Ouya International Trade Co., which sold products ranging from pharmaceuticals to metals. Six years later, after moving up the ranks, Zhang bought the company—a move that helped him fund his future enterprises. Then, homesick for Sichuan cuisine, he founded Tony's Spicy Kitchen in 1997.
As his restaurant enterprise grew, Zhang noticed a decline in the quality of his ingredients. "The taste of the produce just wasn't right," he says. "Too bland. Bad texture. Nowhere close to the flavor of my childhood." He began to investigate, touring the farms that grew the ingredients. The farmers had two plots of land—one organic, for their family, and a separate commercial farm heavily treated with pesticides and other chemicals designed to speed crop growth. It galled Zhang that his suppliers didn't consider their commercial produce safe enough for their own tables.
In 2005, within months of this discovery, Zhang sold his restaurant chain, leased his first 290 acres of land in Nanhui, and incorporated Shanghai Tony Agriculture Development (later switching to Tony's Farm). He began researching best practices in the organic agriculture industry. In 2009, after carrying out a three-year cleanup job on the Nanhui soil and water, Zhang began to deliver organic vegetables to his first batch of customers.
Although he soon had thousands of subscribers, Zhang wasn't in a rush to expand his business just yet. What had troubled him in his research was the realization that "farmers don't want to spend the time necessary to grow animals and crops naturally," he says, citing the example that pigs are traditionally grown for years before they go to market and now it's often just months. Zhang says he wanted to restore traditional agriculture values. "I wanted to follow nature."
At Sichuan Agricultural University, Zhang studied under Jiang Hong, the man he has since appointed chief scientist of Tony's Farm. Hong, a specialist in agricultural technology, advised Zhang that a combination of intelligent sensors and software could improve a farm's efficiency. Hong says he has since brokered research relationships between Tony's Farm and Chinese universities, including Shanghai Jiao Tong University (China's MIT), to design a unique smart-farming system. It manages all aspects of crop growth as well as the packaging, storage, online sales, deliveries, and quality control.

Sensors in the soil monitor the "microclimates" of each crop, gathering data on temperature, humidity, acidity, microbe activity, and light absorption. Five technicians on Hong's team, like traders watching stock tickers, spend their days parsing data streamed from the sensors in real time from various locations to the Tony's Farm office in downtown Shanghai.
If sensors detect low levels of moisture in the soil of a certain potato crop, for instance, the system will automatically activate a sprinkler system, restoring only as much moisture as the plant needs. This kind of precision irrigation is a key advantage, given China's drought problems and the high cost of fresh water. Over the course of the year, Tony's Farm grows more than 120 crop varieties at its various locations; the system knows the needs of each and can anticipate the impact of fluctuating conditions.

In theory, Hong's team is doing remote-control farming. But crops often have problems that require hands-on care. When they do, the Shanghai technicians dispatch field hands to troubleshoot. The system also helps save energy by monitoring the refrigeration temperature of every storage unit and delivery truck and charting fuel-efficient routes for each delivery. (Zhang makes his product-tracking technology a marketing virtue: Customers can use their smartphones to scan labels on each item they purchase to learn how it was grown, watch a video feed of the fruits and vegetables growing, and get data on the soil and water quality of the field it came from.)
"Organic farming typically requires more labor" than conventional farming, says Hong, "which can be expensive, especially when the farm is in an urban area and the cost of labor is high." But almost all of Zhang's farmland is in or near Shanghai or Beijing, because growing food in urban areas is more cost-effective than trucking it in from afar, given the primitive road system, high fuel prices, and lack of cold-storage facilities. Recently, though, Zhang has begun to lease land in more remote parts of China, including a new 450-acre farm in Sichuan province near his hometown. Airfreighting this rural produce to cities has proven cheaper than trucking food grown using urban labor and in soil that had to be cleaned up.
Still, a major portion of Zhang's working capital goes to the hundreds of farmers who tend his land. He's been able to keep his labor force lean because, says Hong, the more information he can gather and analyze about crop conditions, the fewer farmhands he needs.
These smart-farming technologies have yet to fatten Zhang's bottom line. Jason Li, the managing director of Tsing Capital and a private equity investor in Tony's Farm, is uncomfortably aware that organic agriculture is a slow-growth investment. "We want to see faster growth," he says, "but this is such a capital-intensive and time-consuming business." Once the long soil-cleaning process has been carried out, fields can't be densely crammed with crops to boost per-acre yields, as in conventional farming, because that makes them vulnerable to insects and disease. There are also limits to product variety if you sell only what grows seasonally and in certain climates.
Customers who buy luxury goods don't have patience, and they don't like limits, says Li. Nor do investors: Zhang must expand his business rapidly if he wants to go public. But the more quickly he tries to scale it, the harder it is to adhere to the core principles of organic farming.
 
 
Every few weeks, Li gets a call from Zhang asking to meet for dinner or a drink. He wants to hash out a new hire or marketing concept. "It will be midnight when he finally says he has to leave, he has an early-morning flight," says Li. "He is quite energetic."
While Zhang seeks advice from his investors, he also pushes back. It was Zhang's investors who pushed him to start selling organic meats, eggs, oils, and other products from outside suppliers—a move he resisted at first. He may ultimately have to acquiesce to further pressures to sell a wider range of foods, including off-season produce, and perhaps even to include produce labeled "natural" and not certified organic, so he can expand more quickly. "I tell him Whole Foods is not 100 percent organic" in its product offerings, says Li.
Zhang says his prices will come down, but he also insists that for his company to succeed—and lead the way toward sustainable agriculture—it's not his prices that need to change but the mindset of Chinese consumers.
"The problem is not that organic is too expensive in China," says Zhang. "The current price of organic food here is the same as in the U.S. The problem is that conventional food in China is so cheap—a fraction of what it costs in the U.S." These prices don't reflect the hidden health costs, which for the millions of Chinese eating toxic and carcinogenic foods could be very high. It's better for middle-class Chinese to invest in safe food that costs more, Zhang argues, than to buy cheap food that makes them sick. "The consumer mentality should be: Let's pay the farmer, not the hospital." Chen, at the China National Center for Food Safety Risk Assessment, cautions that luxury legumes, even with economies of scale, are a far cry from a public-health panacea: "We cannot depend on our organic farming to solve the food-safety issue for 1.3 billion people."
Zhang, for now, is content with appealing to China's urban elite. He also understands he'll be hard-pressed to attract customers with negative messaging. "Chinese consumers have an obsession with buying the best," he says. "I remember when Coca-Cola came out with that slogan 'Coke Is It!' and Chinese mothers were running around after their kids saying, 'Drink this! It's the best!' Our challenge is to redefine 'the best,' " says Zhang, "so that in China it means food that doesn't hurt you but makes you healthy, energetic—alive." As Li sees it, the movement will build when Chinese understand that "eating healthy food is not a luxury—it is a lifestyle of success."
Before it's here, it's on the Bloomberg Terminal.
LEARN MORE