Iliad Shares Fall After T-Mobile Bid Is Deemed Too Low
Scott Moritz, Alex Sherman and Cornelius Rahn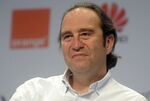 Iliad SA shares dropped the most in seven months after the French carrier's $15 billion bid for a stake in T-Mobile US Inc. increased the risk of a bidding battle with another suitor.
Deutsche Telekom AG considers the $33-a-share cash offer for a 56.6 percent stake in T-Mobile as not competitive and inferior to a separate bid planned by Sprint Corp., according to a person familiar with the matter. Masayoshi Son, the billionaire whose SoftBank Corp. owns Sprint, is said to be working on an offer of about $40 a share for T-Mobile.
Iliad may only need to raise its bid to $37 a share to get Deutsche Telekom to consider the proposal because of a greater chance the French carrier can win U.S. regulatory approval, according to Kevin Smithen, an analyst at Macquarie Securities USA Inc. Deutsche Telekom is trying to avoid a repeat of the 2011 botched sale of T-Mobile to AT&T Inc., a deal that was opposed by the U.S. government.
Combining Sprint and T-Mobile would reduce the number of U.S. wireless carriers to three from four, while Iliad's offer would preserve all four. Still, the savings Iliad is projecting from the combination may be hard to achieve because the two carriers aren't in the same country, said Nuno Matias, a Banco Espirito Santo SA analyst in Lisbon. An increase in Iliad's debt is also a concern, he said. After today's decline, Iliad's market value is smaller than its bid for the T-Mobile stake.
"Investors are skeptical since the synergies are not that credible," Matias said. "The leverage of Iliad would definitely increase substantially."
Niel's Plan
Iliad shares closed 7 percent lower at 191.55 euros in Paris. They fell as much as 13 percent earlier today.
Deutsche Telekom slipped 0.1 percent to 12.09 euros in Frankfurt. SoftBank lost 1.3 percent to 7,477 yen in Tokyo. T-Mobile rose 1.5 percent to $33.42 at the close in New York.
The emergence of Iliad, founded by billionaire Xavier Niel, puts pressure on Son to push ahead with his plan to merge the third- and fourth-largest U.S. wireless carriers. Iliad submitted its proposal to T-Mobile's board, the French carrier said yesterday. T-Mobile confirmed in a regulatory filing that it received it and said it had no further comment.
Deutsche Telekom, which owns two-thirds of T-Mobile, isn't in formal talks with Iliad, said the person familiar with the matter, who asked not to be identified because the situation is private.
Sprint Hurdles
"This probably throws a wrench in SoftBank's plans," said Jan Dawson, an analyst with Jackdaw Research in Provo, Utah. "With another potential bidder, they may not be able to wait this out. It probably forces them to act faster and could raise the price they were willing to pay."
The boards for Deutsche Telekom and T-Mobile still see significant hurdles to a merger with Sprint that need to be addressed before a deal is announced, according to two people familiar with the matter. Some of the concerns are regulatory and some involve the deal structure, the people said. Any deal with Sprint won't be announced before September, another person said.
Andreas Fuchs, a spokesman for Bonn-based Deutsche Telekom; Roni Singleton, a Sprint spokeswoman; and Matthew Nicholson, a spokesman for SoftBank in Tokyo, declined to comment.
"SoftBank puts the T-Mobile acquisition as its top priority, and its stance on that won't change because of the appearance of a rival," said Satoru Kikuchi, an analyst at SMBC Nikko Securities Inc. in Tokyo.
Getting Out
Iliad's cash offer would be financed with debt and equity, and the proposal values the remaining portion of T-Mobile at $40.50 a share based on $10 billion in potential savings to be shared between the two companies, Iliad said. There's no certainty the board will accept the proposal, the company said.
BNP Paribas SA and HSBC Holdings Plc have agreed to lend Iliad as much as $13 billion to finance its bid, according to a person familiar with the situation. Representatives at BNP Paribas and HSBC declined to comment.
"One key benefit of having Iliad as a suitor is it would not be a '4 to 3' deal like TMUS/S is," said Stephen Sweeney, a strategist at Elevation LLC, referring to T-Mobile and Sprint by their ticker symbols. "It would have a much easier time getting regulatory approval," he said in a note to clients.
Even if it rejected an initial offer from Iliad, the priority for Deutsche Telekom's management is getting out of the U.S., according to two people familiar with the matter. It would be open to forgo some sales proceeds in exchange for lower risk of rejection by regulators, they said.
No-Contract Plans
Sprint and T-Mobile had been planning for the U.S. regulatory review process to take at least a year, people familiar with the matter said earlier this year.
Iliad said it has the support of international banks to fund the offer for T-Mobile. Iliad has a market value of 11 billion euros ($15 billion), based on today's close. With today's stock gain, T-Mobile is valued at $27 billion.
Like Iliad, whose deeply discounted subscriptions forced larger carriers to sacrifice profits to keep up, T-Mobile has roiled the U.S. wireless industry in the past two years. The Bellevue, Washington-based company, led by Chief Executive Officer John Legere, started a trend by offering no-contract plans, separating the cost of smartphones from payments for wireless service.
Legere, like Niel, has built a reputation as a maverick, taunting rivals on Twitter and once crashing an industry party held by bigger competitor AT&T. Niel, 46, whose holdings include the rights to the song "My Way," introduced Iliad's Free Mobile two years ago with a monthly fee that was less than half what larger competitors were charging. He has a net worth of $9.2 billion, according to the Bloomberg Billionaires Index.
Spectrum Challenge
While T-Mobile has put pressure on competitors to cut prices, wireless fees are still higher in the U.S. than in France. Carriers got $48.17 a month of revenue per user in the U.S. in the fourth quarter, compared with $32.51 in France, according to research firm Informa Plc.
If Iliad succeeds in taking over T-Mobile, preserving the U.S. as a four-carrier market, AT&T, Verizon Communications Inc. and Sprint could all face tougher competition, said Elevation's Sweeney.
T-Mobile "has already been very aggressive with its un-carrier strategy –- with Iliad as a new corporate parent, it would theoretically be even more aggressive, which would be bad for all three of the other U.S. carriers," Sweeney said.
With Niel as a new owner, T-Mobile would still face the same obstacles in challenging its larger competitors, including difficulty acquiring nationwide wireless spectrum, or the airwaves that carry calls and data, said Benedict Evans, a partner at Andreessen Horowitz.
"He gets T-Mobile, he doesn't change the spectrum landscape; he doesn't change the market dynamics at all," Evans said in an interview on Bloomberg TV. "Yes, he could come in and shake things up, but it's not clear quite how easy it is to do that without much broader spectrum."
Before it's here, it's on the Bloomberg Terminal.
LEARN MORE