Gaza's Next Disaster: No Cement for Rebuilding
To reconstruct the Palestinian enclave, cement is indispensable. Hamas has other uses for it
By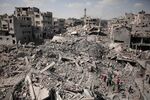 For years before the latest hostilities, Hamas, the Palestinian political organization, complained that Israeli restrictions on cement imports into Gaza were preventing the population from constructing homes, schools, and hospitals. As it turns out, a large share of the cement that did reach Gaza went into building underground lairs and attack tunnels for fighters from Hamas. The Israel Defense Forces (IDF) estimate that each of the three dozen underground passages that troops have found so far required 350 truckloads of building supplies.
Here's the dilemma: Gaza is going to need major reconstruction. In addition to countless homes and a hospital that Hamas commandeered, the Israeli bombardment has destroyed 50 factories that produced food products, soft drinks, and textiles, among other goods, according to Ali Al-Hayek, vice president of the Palestinian Federation of Industries. But if cement imports resume, what's to stop Hamas, which runs the enclave, from again taking or smuggling it to rebuild its underground military infrastructure? That strategy would doubtless provoke Israeli retaliation—and a likely repeat of the current conflict.
The Gisha–Legal Center for Freedom of Movement, an Israeli nonprofit, is already putting Israel's government on notice that the cement should flow freely. "It's impossible not to allow construction materials into Gaza. You cannot leave 1.7 million people without homes, schools, clinics, a working sewage system, and the 70,000 jobs that rely on the construction industry," Sari Bashi, Gisha's co-founder, said in an e-mail. Even before the latest conflict there was a shortfall of 75,000 housing units in Gaza, said Bashi.
Up until 2007, Gisha estimates, construction accounted for 28 percent of Gaza's gross domestic product. After Hamas took over Gaza that year, Israel slapped on a trade embargo, allowing in only certain humanitarian items. It eased the embargo slightly in 2010 and again in 2012, when it began to allow imports of cement earmarked for construction projects funded by the international community, primarily Qatar. The IDF says 181,000 tons of gravel, iron, cement, wood, and other supplies have legally entered Gaza from Israel this year.
Since 2007, most of Gaza's cement has come from Egypt. Although former Egyptian President Hosni Mubarak joined Israel in blockading Gaza, building materials were smuggled in via tunnels that also brought food and other necessities, along with weaponry. But those flows largely stopped in July 2013, when Egypt's military ousted President Mohamed Mursi, who was sympathetic to Hamas. The army destroyed a number of smuggling tunnels linking Gaza to Egypt.
Afeef Dahlan, a 48-year-old contractor and father of eight, sits on a plastic chair outside his house in the northern Gaza city neighborhood of Sheikh Radwan drinking coffee and tea and listening to radio reports on the war. He says he and 20 of his workers are unemployed for lack of building materials. "I hope that the results of a cease-fire agreement will bring us cement," says Dahlan, "because cement would employ dozens of other careers in all sectors."
Still, the threat of Hamas attack tunnels is genuine. Hamas fighters have used them to stage deadly raids and kidnappings inside Israel, including the seizure of Gilad Shalit, a soldier who was held hostage for five years before being exchanged in 2011 for 1,027 Palestinian prisoners. Israelis have been frightened by IDF reports that it found handcuffs and tranquilizers in some of the tunnels.
A Bloomberg News reporter who entered one seized tunnel that was dug 40 feet below the surface in sandy soil found the walls and ceiling made of prefabricated concrete slabs and a floor of poured concrete. Metal rails for carts ran along the floor and a communications cable rack was on one side. The main entrance was hidden more than a mile inside Gaza under a greenhouse in Khan Yunis, a refugee camp. Its other end was nearly a mile inside the Negev region of southern Israel, near Kibbutz Nir Am. "What is surprising is the sheer scope of their entire tunnel-building operation, its sophistication, and how much of it we found in built-up populated areas," says the chief combat engineer of Israel's Gaza division, who asked to be identified only as Lieutenant Colonel Max out of security concerns.
The IDF might be able to prevent reconstruction of the tunnels by keeping boots on the ground in Gaza, but that would expose soldiers to danger and anger Gazans. Instead, the IDF could be forced to rely on high-tech detection gear. But while electromagnetic and thermal imaging can map underground terrain, "doing so operationally in military combat conditions" is difficult, Dan Blumberg, a geography professor at Ben-Gurion University, told Israel Radio. The visible scars from this war in Gaza are likely to last a long time.
— With assistance by Saud Abu Ramadan, and Calev Ben-David
BOTTOM LINE -
The bottom line: The Israeli army says 181,000 tons of building materials legally entered Gaza so far this year.
Before it's here, it's on the Bloomberg Terminal.
LEARN MORE