DirecTV Beats Earnings Estimates on Demand for World Cup
Caitlin McCabe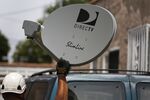 DirecTV, the largest U.S. satellite-TV operator, reported second-quarter profit that topped analysts' estimates as the World Cup lured Latin American customers.
Earnings of $1.59 a share, excluding one-time items, beat analysts' estimates for $1.53 a share on average. Profit was buoyed by 543,000 additional Latin American customers, who flocked to the World Cup offerings that the El Segundo, California-based company provided. U.S. subscribers, by contrast, fell by 34,000, according to a statement. Analysts had projected 366,000 for Latin America and a loss of 85,000 in the U.S., according to a Bloomberg survey of seven analysts.
Demand for DirecTV's services underscores how viewers still need pay-TV to watch sports and other live programming amid the growing popularity of online offerings like Netflix Inc. AT&T Inc. made a $48.5 billion bid for DirecTV in May to capitalize on that appetite, hinging the deal on whether the satellite TV-provider renews its exclusive Sunday night package of football games. The acquisition, which still needs regulatory approval, would create a bundle of satellite television and high-speed Internet.
"The upside in TV penetration in Latin America is overwhelming," said Matthew Harrigan, an analyst at Wunderlich Securities in Denver. "Even domestically, the U.S. loss was narrower than people expected."
Net income rose to $806 million, or $1.59 a share, from $660 million, or $1.18, a year earlier. Revenue rose 5.3 percent to $8.11 billion, outpacing analysts' estimates of $8.02 billion.
DirecTV slid less than 1 percent to $86.05 at the close in New York. AT&T, based in Dallas, fell 2.1 percent to $35.59.
Only Temporary
The 2014 World Cup spurred record-breaking TV viewership, giving TV providers beyond DirecTV a boost. Grupo Televisa SAB, which co-owns Sky Mexico with DirecTV, posted higher profit after relying on exclusive World Cup content to draw viewers and advertisers.
While the games lifted earnings for TV providers, the tournament is only temporary, stretching from the end of the second quarter to the beginning of the third.
The proposed takeover of DirecTV is just one of many deals in the communications industry, which is facing accelerating consolidation.
Competitors Comcast Corp. and Time Warner Cable Inc. announced their own merger in February to create a stronghold against phone and satellite companies. Last month, Rupert Murdoch's 21st Century Fox Inc. bid on Time Warner Inc. The deal was rejected, though people familiar with the situation have said Murdoch may make a higher offer.
Before it's here, it's on the Bloomberg Terminal.
LEARN MORE