Argentina's Default and the Melodramatic Cult of Evita
By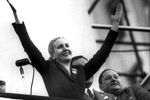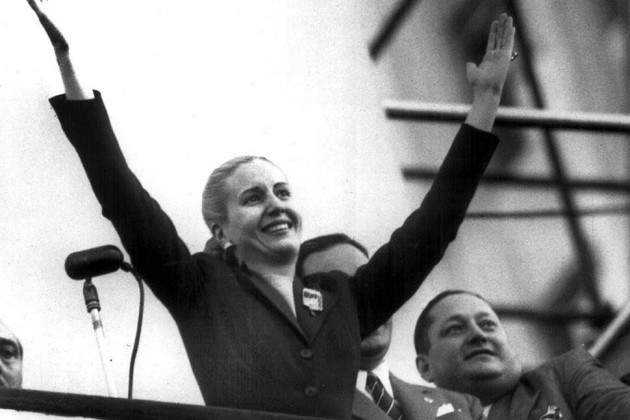 Eva Duarte de Perón was a brilliant choice for the subject of a musical—earthy, passionate, and ultimately doomed. Don't Cry for Me Argentina from Andrew Lloyd Webber's Evita is one of the greatest belt-it-out songs in Broadway history.
But Perón is an awful role model for the president of Argentina. Histrionics that play well onstage are a disaster in government. Unfortunately, President Cristina Fernández de Kirchner is a devoted disciple of the late Evita. That, in a nutshell, is a key reason Argentina defaulted yesterday on its government debt.
The creditors are to blame for the default, too. U.S. hedge funds led by billionaire Paul Singer's Elliott Management squeezed Argentina in American courts, first winning a judgment and then holding it like a sledgehammer over the heads of the Argentines. "Extreme predatory behavior," Eric LeCompte, executive director of Jubilee USA Network, a religious debt-relief group, called it in a statement yesterday.
Still, it wouldn't have come to this if Fernández hadn't channeled her inner Evita, refusing until the very end of the 30-day grace period to allow her people to negotiate with what she termed fondos buitres—vulture funds. By casting what could have been a win-win negotiation as a conflict between good and evil, she put her country in a position where it couldn't compromise without losing face. And since Singer had the legal advantage, her stance was nothing but self-destructive.
"I love the country, but it's impossible to like this government," says Robert Shapiro, co-chairman of a coalition backed by Singer called American Task Force Argentina. "This [case] has been a political tool for mobilizing support for the Kirchner political movement."
It's hard to overestimate the potency of Perón's legacy in Argentina, where her memory isn't filtered through the sensibility of Andrew Lloyd Webber. Born in rural poverty in 1919, she moved to Buenos Aires as a teenager to seek a career as an actress, eventually married Juan Perón, helped his campaign for president in 1946, and then served as the wildly popular first lady of Argentina from 1946 until her death from cancer in 1952 at the age of 33. She castigated what she called the oligarchs and spoke passionately on behalf of the descamisados—the shirtless ones—who were disdained by the Europhile upper class of Buenos Aires.
While the concern for the poor was admirable, Peronism also favored a brand of retrograde economics that isolated Argentina from global trade and investment and contributed to the nation's century-long decline. In three presidential terms, the last ending in 1974 when he died in office, Juan Perón created a welfare state, nationalized companies, brought labor unions under state control, poured money into white-elephant projects such as nuclear fusion and a domestic auto industry, imprisoned opponents, fired professors, and harbored Nazi war criminals. Eva Perón died before she could witness many of these actions, but the national cult of Evita continues to cast a glow over her husband's troubled legacy.
Fernández, who was elected president in 2007 and reelected in 2011, is following in the footsteps of Argentina's power couple. Invoking Evita, she started a universal child-benefit program and raised social spending. In the manner of Juan, she has done battle with farmers and the press, attempted to get government seats on the boards of Argentine companies, curbed the central bank, and stoked popular support by nursing Argentina's grudge against Britain over its occupation of the Falkland Islands. Fighting U.S. hedge funds is just one more doomed gesture.
In 2012, at a rally to mark the 60th anniversary of Perón's death, Fernández recalled one of Evita's most famous statements: "I will return, and I will be millions." Tapping into Evita's flare for drama, the president touted her administration's emphasis on social programs as evidence that Evita had indeed returned, and had fulfilled her own prophecy.
Fernández didn't sing Don't Cry for Me Argentina as she addressed the crowd at José C. Paz. Yet, overcome with emotion as loyalists intoned an old Peronist song, she begged of them, "Don't make me cry."
(
Corrects 7th paragraph to say Juan Peron died in office in 1974.
)
Before it's here, it's on the Bloomberg Terminal.
LEARN MORE