SocialRank Knows Who's Following You (on Twitter)
By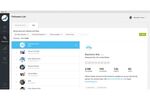 Chances are you know how many people follow you on Twitter. But do you know who they are or anything else about most of them? Probably not.
Alex Taub and Michael Schonfeld see this is as a problem. Their startup, SocialRank, released a tool on Wednesday designed to help companies parse their social-network followers better. "Now you can filter and sort people by interest, location, bio key words, verification, and activity," says Taub. The tool, SocialRank 2.0, currently works only for Twitter but will soon be extended to other services, such as Instagram and Facebook.
SocialRank, a startup in New York, launched a basic version of its website in February. "Overnight we had almost 5,000 brands start using us—it was pretty awesome," says Taub. That initial version allowed users to see their top 10 Twitter followers in three categories: most valuable (a ratio of followers to following), most engaged (with your social media account), and best (a combination of the first two). The 2.0 version of SocialRank, which is free, adds two more categories: most followed follower and alphabetized.
The data lets companies quickly find and reward their most ardent Twitter devotees. GoPro, for example, used SocialRank to identify its most engaged follower and give him a camera as a gift.
SocialRank 2.0 also allows users to see rankings of all of their followers—not just their top 10—and slice and dice them into specific groups using filters. "Imagine you're someone like Pepsi, and you want to find 1,000 people who live in New York who like sports so that you can invite them to a special event. No problem," explains Taub. Such searches can be saved or exported to Twitter lists that are automatically updated when followers who fit the criteria join or leave.
Targeted advertising is another application. If Warner Brothers is releasing a scary movie, say, it can find fans of the genre—anyone who has tweeted about horror films in the past—and build up a marketing list.
The overarching goal is to create a platform where brands manage all their online fans. "We are building a central location/dashboard to help manage followers across multiple networks," SocialRank explains in a blog post. "We are building the Hootsuite or Buffer for followers."
A handful of other companies, including Sprinklr and Sysomos, provide information on social network followers, and Taub plans to compete with lower prices and simpler tools. So far, the four-person startup has raised $1.15 million from investors, including Vaizra Investments and Advancit Capital.
To make money, SocialRank plans to charge premium users anywhere from $25 to $100 per month for added services, such as text message notifications, each time followers meeting certain criteria are added to your list. The startup will also charge roughly $500 to $1,000 a month to provide market intelligence on competitors.
Uber, Juicy Couture, Century21, Bonobos, and a handful of other companies are participating in SocialRank's 2.0 launch by publicly "surprising and delighting" their top Twitter disciples with various prizes, says Taub. Boxing legend Muhammad Ali has also signed on and plans to give one fan an Ali clothing item from the Roots of Fight collection. Says Taub: "It's an easy way to turn a fan into a superfan."