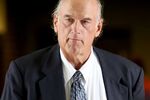 I still think it's a dumb case. Fair is fair, though, and Jesse Ventura won his defamation lawsuit against the estate of a celebrated Navy SEAL who wrote about an acrimonious barroom encounter he allegedly had eight years ago with the former pro wrestler and Minnesota governor.
On Tuesday, federal court jurors in St. Paul, Minn., awarded Ventura $1.8 million for damage to his reputation and the late author's "unjust enrichment." Here's the background from my July 9 post titled "Dumb and Dumber: Lawsuits by Sleeping Yankees Fan and Jesse Ventura":
After careers as a feather boa-clad professional wrestler known as the Body and as the entertainer-governor of the normally sober state of Minnesota, Jesse Ventura turned himself into a cable television conspiracy theorist. Yet he, too, is worried about his reputation. A federal jury in St. Paul is hearing Ventura's defamation suit against the estate of a former member of the Navy SEALs who alluded unflatteringly to the ex-governor in a memoir.

In his book, American Sniper: The Autobiography of the Most Lethal Sniper in U.S. Military History, Chris Kyle, the former SEAL, recounted a bizarre California barroom altercation with Ventura. The clash stemmed, Kyle wrote, from comments by Ventura criticizing U.S. policy in Iraq and disparaging the SEALs. Ventura denies the fight ever took place. After publication of Kyle's best-selling book, Ventura claims that he suffered humiliation and lost employment opportunities.

There are several reasons Ventura's suit is a bad idea. First, as a "public figure" for legal purposes, he will have to prove that Kyle published a falsehood with "actual malice," meaning that the author pretty much knew he was wrong. That will be difficult. About a year after Ventura filed suit, Kyle was killed in Texas in a bizarre shooting by a young man the former sniper was mentoring. Ventura, in effect, is facing off against Kyle's widow, Taya, on behalf of the Kyle estate. Not pretty.

Whatever did or didn't happen in that California bar, is this a fight we really want to see played out in a courtroom—especially given the Body's proven ability at drawing public attention? Why not just get out there and call Kyle a liar and let the court of public opinion decide?
Now, I suppose, Ventura could call skeptics, including me, the dummies, as he's won almost $2 million and the ability to argue that his name has been cleared. From the New York Times:
All along, Mr. Ventura has said that his lawsuit is not about money. He said he never would have gone to court had Mr. Kyle admitted in public that he made up the story of the bar fight. Mr. Ventura said he really just wanted an apology and to clear his name. When that did not happen, he told jurors, he felt he was left with no other choice but to sue. "I was handcuffed," he testified.
Handcuffed and now victorious. Congrats, Governor Body.
Before it's here, it's on the Bloomberg Terminal.
LEARN MORE