Fired McKesson Worker Loses Fight on CEO Hammergren's Potential Exit Pay
By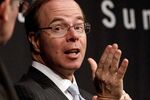 About a year ago, Glenn Gray, a warehouse operator for McKesson, addressed the company's annual meeting and asked Chief Executive Officer John Hammergren to help improve employees' wages and benefits at the company's Lakeland (Fla.) distribution center.
About four months after that, Gray, 48, was fired.
Today, he returned to McKesson's annual meeting in Redwood City, Calif.—this time arguing that the company should cut the pay that the CEO would receive if he's ever fired under a so-called change-in-control. Gray lost; shareholders defeated a proposal that would have recommended trimming a potential $292 million severance package Hammergren would be eligible for if he were terminated in the event of a sale. Kris Fortner, a spokesman for San Francisco-based McKesson, which distributes pharmaceuticals and medical products,  didn't disclose the vote tally.
Hammergren's change-in-control package includes about $114 million in pension pay and  $140.6 million in unvested restricted stock and options that would become immediately payable in the event of a change in control and Hammergren's termination. That "accelerated vesting" drew opposition from the Teamsters union, which sponsored the ballot  measure to try to reduce its value.
The amounts seem unfair compared with McKesson employees who are "living paycheck to paycheck," says Gray, a former forklift driver who's now a full-time activist for the Teamsters. All told, Hammergren and a handful of top executives stand to get $283 million or more in accelerated stock awards if they're fired after a change in control, according to the Teamsters.
McKesson's Fortner declined to comment on the union's ballot measure. In the company's latest proxy filing on June 19, McKesson's board had opposed the Teamsters' proposal, telling investors that accelerated vesting is "an important tool for motivating our executives in the face of a potential change in control transaction."
"You've got employees struggling while the company as a whole is doing quite well," Gray says.
McKesson is indeed doing well under Hammergren's leadership. It hasn't reported a loss since the fourth quarter of 2009, when the U.S. unemployment rate hovered near 10 percent. Its shares have risen more than sixfold since Hammergren became CEO in 2001, compared with a 59.2 percent increase in the Standard & Poor's 500-stock index through last night.
Hammergren's change-in-control package, combined with $289 million more in company stock and options he already owns, would bring his total kitty in the event of a termination to $581 million on paper—a figure based on valuations as of March 31.
"They shouldn't continue to give lavish giveaways of unearned money to executives on their way out the door," Gray says. "They should think more about taking care of their associates."
Many union workers at the Lakeland plant, who the Teamsters say are paid an average of $13 an hour, need every dollar they earn for basic necessities and can't afford to participate in McKesson's retirement plans, Gray says. The company's health plans, which range in cost depending on coverage and the number of wellness incentives an employee earns, present another struggle for some, he says.
While Gray said he paid as much as $600 a month for health coverage, McKesson's Fortner said the health plans' costs start at $5 a month for an employee and spouse — if they achieve wellness incentive goals. He also noted that four Teamsters organizations have accepted the company's health-care plans over the last two years. "We see this as further proof that our health plan offerings are highly competitive and effective," Fortner says.
Gray and the Teamsters say he was unlawfully fired from the company in November 2013 over his union activities and for speaking out at last July's shareholders meeting. The National Labor Relations Board, a federal agency that investigates claims of labor-rights violations, backed Gray's claim that he was dismissed over union activities and included it in a labor-relations case it filed against the company. An administrative law judge is expected to issue a ruling in that case later this year.
McKesson is fighting those allegations, says Fortner, the spokesman. Gray's dismissal was based on "legitimate business reasons," he says. He cited Gray's personal privacy and declined to discuss details. Gray declined to comment on what reasons the company had given him.
The Teamsters' measure favored a plan that would pay only a prorated portion of executives' unvested awards. It was endorsed by proxy advisory firm Institutional Shareholder Services. It also drew support from CtW Investment Group, which represents investors with $250 billion in retirement assets under management, and the New York State Common Retirement Fund, which oversees $160.7 billion in retirement money, according to officials at both organizations.
(Update: Adds details of today's shareholder vote.)
Before it's here, it's on the Bloomberg Terminal.
LEARN MORE