Uber and Airbnb Welcome Corporate Travelers to the Sharing World
by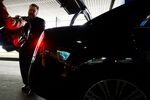 For a moment, at least, two of the buzziest Internet startups are sharing the spotlight with a less-than-sexy corporate expense management company. Uber just introduced a way for users to bill cars directly to their employers through Concur, which helps about 23,000 businesses with travel and expense management. The move comes one a day after Airbnb announced a similar program for lodging found on its website.
For Uber and Airbnb, the business market is a logical outgrowth of their consumer businesses. Direct spending on business travel totaled $266 billion last year, according to the U.S. Travel Association, although the figure includes much more than payments for hotels and cars. The limousine and town car industry brings in $6 billion per year, with luxury and corporate services making up the largest slice of that pie, according to IBISWorld.
Both Uber and Airbnb have already been providing services to business travelers on an informal basis. Depending on where you work, it's not hard to add your corporate credit-card number to your Uber app or to submit Airbnb receipts, instead of Marriott receipts, after a business trip to Kansas. The two companies hope to drive more such activity by making it easier on both travelers and their employers.
Concur should help achieve this with its existing integration into the travel systems of corporate America, including 70 members of the Fortune 100. The company has been aware for some time of the rogue business traveler phenomenon, in which up to half of business travelers book hotels that aren't in their company's travel systems. As a result, Concur developed a product called TripLink to collects information about that activity and funnel it back into the employer's expense-reporting systems.
Technology companies such as Evernote, Lyft, and Salesforce, have already integrated Airbnb are among the 30 employers already offering Airbnb within their corporate travel systems. Starting this fall, anyone who uses Concur's TripLink system can book accommodations through Airbnb.
Uber's business travelers won't notice much difference; the deal with Concur will simply introduce a new payment option. But employers will have access to a Web portal that will allow them to analyze their spending on transportation with more detail than they have had in the past. One advantage that large companies have found in booking with black car vendors has been bulk rates; Uber says that discounts aren't in the works at this point.
Before it's here, it's on the Bloomberg Terminal.
LEARN MORE