Siemens to BP Prepare for Downward Russia Business Spiral
Matthew Campbell and Alex Webb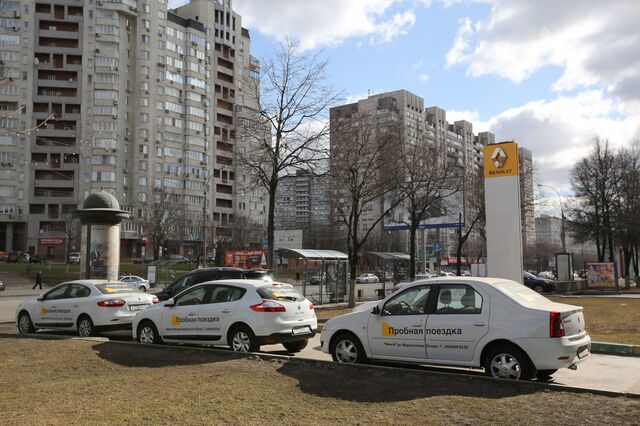 BP Plc, Siemens AG and Renault SA are among European companies preparing for a downward turn in their Russian business following the European Union's decision to impose its widest-ranging sanctions yet over President Vladimir Putin's involvement in eastern Ukraine.
EU leaders announced plans yesterday to restrict the export to Russia of equipment to modernize the oil industry and forbid the sale of machinery, electronics and other civilian products with potential military uses. New arms contracts with Russia are also not allowed.
The sanctions will have a direct impact on companies like Siemens, which may no longer be able to sell oil equipment to Russia, and an indirect effect on many others like Renault, which expects the country's auto market to contract more than 10 percent in 2014 as consumers hold back purchases. BP, owner of 20 percent of state-backed OAO Rosneft, yesterday warned of risks to its profit and production due to the crisis.
"In Europe, for some companies this is becoming a major problem, and they can see it becoming an even bigger one," said Andrew Kenningham, an economist at research firm Capital Economics. "The long-term impact of a standoff, if it continues, is clearly very bad for business confidence and future investment in Russia."
Shares Decline
Renault shares declined 3.6 percent today, while Siemens slid 0.9 percent and BP fell 0.5 percent.
The Ukraine confrontation intensified with the July 17 downing of a Malaysian airliner by a surface-to-air missile over territory held by pro-Russian separatists in eastern Ukraine. All 298 aboard were killed. The U.S. this week said that Russian forces are firing artillery at Ukrainian units on the other side of their border, where the Kiev government is fighting a secession movement by pro-Russian separatists. The Kremlin says it isn't supplying or otherwise backing the rebels.
German exports to Russia could contract 10 percent to 20 percent as a result of the escalating crisis, said Martin Wansleben, head of the Association of German Chambers of Commerce and Industry. German trade with Russia was worth almost $88 billion last year, according to data compiled by Bloomberg. Germany is the EU's largest exporter to Russia.
U.S. Measures
The new EU measures also bar Russian state-owned banks from selling shares or bonds in Europe. Further U.S. sanctions announced yesterday target VTB Bank, Bank of Moscow and the Russian Agricultural Bank, as well as United Shipbuilding Corp. The U.S. also is suspending government-backed financing for new deals in Russia and prohibiting export of some equipment used for oil exploration and production.
The pain from sanctions may be felt most sharply in the energy sector. Rosneft, led by Putin ally Igor Sechin, is trying to tap deposits of hard-to-access oil locked in shale formations and deep underwater, in order to compensate for stagnant production from Soviet-era conventional fields. The company is Russia's largest oil producer.
European restrictions on the export of high-tech equipment could complicate those plans and threaten BP's investment. Shares of Rosneft, which also has partnerships with Exxon-Mobil Corp. and Eni SpA for Arctic exploration, have lost 14 percent of their value since June 30.
Siemens Impact
Siemens, whose 3,100 employees in Russia generated 2.2 billion euros ($2.95 billion) in sales from the country last year, counts the likes of OAO Gazprom and pipeline operator OAO Transneft among its customers. The Munich-based company is also providing electrical equipment for OAO Lukoil's Filanovskaya oil platform in the Caspian Sea, while its train-making joint venture is working with Russian Railways to supply 675 freight locomotives by 2020.
Siemens Chief Executive Officer Joe Kaeser, whose March meeting with Putin was criticized by German Vice Chancellor Sigmar Gabriel, said in a July 2 interview that he told the Russian leader: "'Hey, look, I committed, and you'd better make sure that this commitment, this cooperation, will last because if you don't stop that crap then we're going to be the first ones to obey the sanctions and put them in place.'" Siemens spokesman Marc Langendorf declined to comment.
Another supplier of energy gear, France's Technip SA, lowered its outlook for profit margins on some types of projects this week because of uncertainty about how actions against Russia would affect progress on the giant Yamal LNG installation in Arctic waters. A Technip representative could not immediately be reached for comment.
Too Optimistic
Other European energy companies that had hoped to help extract some of the world's largest oil and gas reserves are also pulling back. Total SA, France's largest oil company, stopped buying shares in Russian partner OAO Novatek after the Malaysian crash, "considering all the uncertainty it created," chief financial officer Patrick de la Chevardiere said today. Total shares fell 4.9 percent in Paris.
The automotive industry is bracing for a further contraction of the Russian car market, which has already been in decline as a result of the crisis and a sluggish economy. Renault has greater exposure in Russia than other automakers because it controls Lada maker OAO AvtoVAZ with Japanese partner Nissan Motor Co..
"We're probably a little too optimistic; there's a risk that it will be worse," Renault Chief Performance Officer Jerome Stoll said yesterday before the sanctions measures were announced. "We're in a political and economic environment that is absolutely uncertain."
Strained Relationship
Despite targeting oil production, the EU sanctions have steered clear of the natural-gas sector -- leaving unscathed so far companies like BASF SE, the world's biggest chemical producer, which gets about half its natural gas from state-controlled Gazprom, and other utilities like E.ON AG and RWE AG. On average, EU countries get 24 percent of their gas from Russia, according to Deutsche Bank -- meaning that confronting Gazprom could result in supply cut-offs.
For now, both European and Russian companies are trying to do business as best they can in an increasingly strained environment, said Logan Wright, the managing partner for Moscow at law firm Clifford Chance.
"The situation has gone to a level that almost no one was anticipating," Wright said. "People are increasingly pessimistic about the impact."
Before it's here, it's on the Bloomberg Terminal.
LEARN MORE