Can Startups Help Fashion Brands Battle Amazon?
By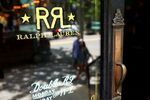 When it comes to online shopping, fashion retailers feel your pain. They have to cope with the high rate of returns, the price pressure, the ease of comparison shopping, the lure of free shipping. That may explain why startups in the first New York Fashion Tech Lab, which wrapped up last week, peppered their presentations with references to Amazon.com. Helping retailers compete against the e-commerce giant was a factor in why many had been picked for the 12-week accelerator program created by venture capital firm Springboard Enterprises and the Partnership Fund for New York City.
The eight startups, chosen from a pool of 127 applicants, were paired with such companies as Kate Spade, J. Crew Group, Macy's, Li & Fung, LVMH Moet Hennessy Louis Vuitton, and Ralph Lauren. "The retailers chose who they wanted to work with," says Maria Gotsch, the chief executive of Partnership Fund. "Those who filled a gap were more likely to stand out."
One of the biggest challenges for fashion brands: getting the kind of scale to compete with services such as Amazon Prime, the $99-a-year service that includes such perks as free two-day shipping. As Erica Kammann, the president of Suddenlee, told an audience of retailers gathered at Hearst's Manhattan headquarters for "Demo Day" on July 24, customers are less willing to wait three to seven days for an item "when they're used to getting it in a day or two for free." Suddenlee has created a membership program that enables specialty stores and fashion brands to offer free next-day delivery.
Another lab participant, Perch Interactive, deploys digital displays and signage to enhance the in-store experience. For instance, the act of picking up a shoe from a display shelf might activate a short video or interactive quiz. Stylinity also brings more technology into the store. It makes selfies shoppable by creating incentives for customers to snap photos of what they're wearing in the dressing room and send the images to their followers, so they can click to buy. (Stylinity's chief executive, Tadd Spering, announced he'd signed a deal to have NFL players post shoppable selfies—presumably not from the locker room.)
Other fashion lab participants use data to help retailers do a better job of selling online. Such companies as StyleSage and Trendalytics have developed software to help retailers gauge trends and competitive threats better to make better pricing and product decisions. Clothes Horse sifts through mountains of data on product measurements and customer preferences to help shoppers understand how a particular item will really fit. Clothes Horse's CEO, David Whittemore, who was paired with Macy's over the past three months, said his product had helped retailers such as Anthropologie and Gant boost sales 8 percent while reducing returns by 9.5 percent. Stylit, meanwhile, marries data analytics on customer preferences with an team of personal stylists to help retailers suggest attractive outfit combinations that machines alone are unlikely to produce. "Let's be honest," said Yaniv Nissim, Stylit's CEO, "algorithms do not predict style."
For retailers, technology also holds the promise of lowering production costs while bringing unique products to a wider audience. Lab participant Nineteenth Amendment combines crowdsourcing, data analytics, and small-scale manufacturing to create an ecosystem that lets fledgling designers sell preordered outfits to consumers. For retailers, that could curb sales or create a new source of unique suppliers to help distinguish their brands. The startup's CEO, Amanda Curtis, certainly wishes she'd had access to something like this as a young designer struggling to get her first line off the ground. As Springboard Chairman Kay Koplovitz notes, new companies need capital, connections, and customers to expand. Retailers need new tools to compete. "That's what can make this kind of collaboration so powerful—they each get value from working together."
Before it's here, it's on the Bloomberg Terminal.
LEARN MORE