Hamptons Scene: Seinfeld in Tie, Steve Cohen, Kardashian
Amanda Gordon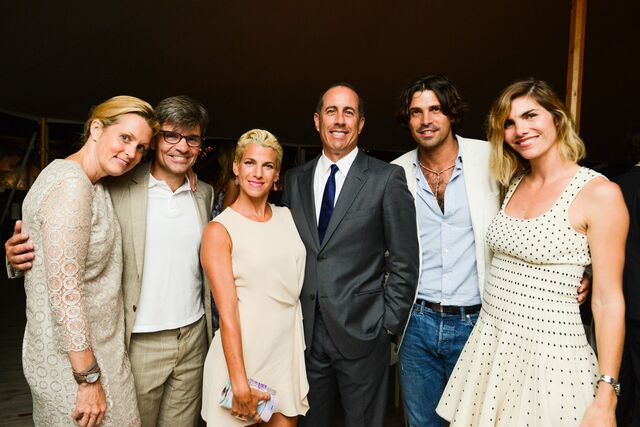 A man going out to a gala in the Hamptons can usually get away with jeans and button-down, no tie, not even a jacket.
But if you're Jerry Seinfeld, and Giorgio Armani is sponsoring the Baby Buggy Summer Dinner at your house, you put on a gray suit with blue silk tie and dress shoes and marvel at the schlubs gathered in your backyard.
Steve Cohen of Point72 Asset Management wore a purple patterned dress shirt, tucked in, no jacket or tie. The hedge-fund manager's Steven A. and Alexandra M. Cohen Foundation was a "Premiere Table Sponsor" of the event on Saturday Night, photos of which were reviewed by Bloomberg News.
In khakis on Further Lane in East Hampton, where a home was recently purchased for $147 million, were Matthew Cherwin, co-head of global credit at JPMorgan Chase, who also sported a blue plaid sport coat and white shirt, Alec Baldwin, in his standard Hamptons uniform of blazer and untucked shirt, and Jeff Blau, chief executive officer of Related Cos., with a light blue shirt tucked in. The firm's Related Group is developing a luxury residence in Sunny Isles Beach, Florida, with Armani/Casa's interior-design studio.
Tiger Global Management's Lee Fixel wore jeans, a white dress shirt and light brown sport coat, and sat next to Neil Blumenthal of Warby Parker, in jeans and a long-sleeved sweater. Nacho Figueras dressed up jeans as only an Argentine polo player could, with a fitted white jacket.
Baby Buggy, founded by Jessica Seinfeld, collects essential items for infants and children and distributes them along with social services like fatherhood training, through more than 50 community-based organizations.
Giorgio's CEO
Mr. Seinfeld, who made his modeling debut with Rag & Bone this month, had some competition for most stylish:
Scott Disick, accompanying his pregnant girlfriend Kourtney Kardashian, wore a suit with a checked blue and white shirt.
The CEO of Giorgio Armani Corp., Graziano de Boni, played it Italian cool, wearing a dark blue jacket with a black shirt.
Michael Tiedemann, CEO of Tiedemann Investment Group and the treasurer of Baby Buggy, was straight out of central casting for wealth management professionals in a light-blue shirt and matching pocket square with a light suit.
Edward Menicheschi, publisher of Vanity Fair, which collaborated on the event with Giorgio Armani, wore a denim-wash shirt with a dark suit and espadrilles. Newsman George Stephanopoulos put on a beige suit with a white pullover.
Seinfeld won against them all because he was the only guy in a tie and buttoned jacket at a party serving Boodles gin and The Kraken rum. He did fall prey to that awkward jacket flaring when he put his arms around guests for photos, though it wasn't nearly as bad as a puffy shirt.
Nell Diamond
Now for the girly details: Jessica Seinfeld wore a short white dress, Alexandra Cohen a long orange dress, Kourtney Kardashian a long white lace one.
Decor was understated and minimal, like the Giorgio Armani brand. Cocktails were served in and around a barn. Dinner, for about 150 guests, was held under a white tent with a bleached wood floor at long tables with placemats and lanterns. There were no flowers or tablecloths.
Men were given wallets, the women clutches, Giorgio Armani getting into the hands of it-girls like Nell Diamond, who wore a polka-dot slip dress and carried an Edie Parker purse with "Nellie" printed on it, and tastemakers Sarah Easley and Beth Buccini, who run the boutique Kirna Zabete in SoHo.
Not only was it the host's privilege to dress up, Seinfeld also had the shortest trip home to get out of his fancy duds.
Before it's here, it's on the Bloomberg Terminal.
LEARN MORE