Aussie Parity With Kiwi Seen as Rates Diverge: Chart of the Day
Kevin Buckland and Hiroko Komiya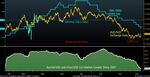 Australia's dollar is set to weaken to parity with its New Zealand peer for the first time, HSBC Holdings Plc predicts, as contrasting economic fortunes force a widening of the gap in interest rates.
The top panel of the CHART OF THE DAY shows the Aussie fell below NZ$1.05 in January this year in what was only the third time in the currencies' post-float histories as traders correctly bet the Reserve Bank of New Zealand's benchmark interest rate would exceed that of its Australian counterpart. The bottom panel shows the 240-day correlation between the Aussie-U.S. dollar rate and the kiwi-greenback pair falling last week to the lowest since 2007 as the currencies' moves reflected diverging central bank signals.
"The main thing that has been driving the change in nature of the two currencies is the respective paths of monetary policy," said Paul Mackel, HSBC's Hong Kong-based head of Asian currency research. "People will be looking for opportunities to sell the currency pair once it becomes clear that the RBNZ's rate hike story is very much intact," driving a "push to parity," he said.
RBNZ Governor Graeme Wheeler signaled on July 24 a "period of assessment" after the developed world's first round of interest-rate increases since 2011. The benchmark rate stands at 3.5 percent following four straight 25 basis point rises since March, while the RBA continues to hold borrowing costs at a record-low 2.5 percent. A basis point is 0.01 percentage point.
Reserve Bank of Australia Governor Glenn Stevens reiterated last week that he could take borrowing costs lower if necessary, with the unemployment rate hovering near a decade high. Options traders expect 1 basis point of rate cuts by the RBA in the next 12 months, compared with 39 basis points of increases by its New Zealand counterpart, according to Credit Suisse Group AG indexes.
The 240-day correlation tumbled to 0.66 on July 24 from as high as 0.93 in August 2012. A correlation of 1 would mean the currencies were moving in lockstep, while a value of minus 1 would mean the opposite. The Aussie bought NZ$1.1004 yesterday in New York.
Before it's here, it's on the Bloomberg Terminal.
LEARN MORE