EU Ban Targets Russian Banks $15 Billion Debt: Chart of the Day
Ksenia Galouchko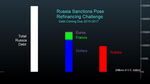 As the European Union weighs banning Russian state-owned lenders from its capital markets, the banks have more debt to repay in euros, dollars and Swiss francs than they do in rubles over the next three years.
The CHART OF THE DAY shows VTB Group, OAO Sberbank, OAO Gazprombank and Vnesheconombank have about $15 billion in dollar, euro and franc-denominated bonds maturing 2015 through 2017, compared with about $9.7 billion in ruble debt. The banks will need to refinance about $50 billion of debt in the currencies over the next 30 years, compared with $15.9 billion in rubles.
A ban on European purchases of bonds or shares sold by the Russian lenders is among the options for stepped-up sanctions under consideration by the EU, according to a July 24 proposal presented to member states. The U.S. is pushing Europe to toughen its stance toward President Vladimir Putin a week after the downing in Ukraine of a Malaysian Airlines jet by a missile Americans say was probably supplied by the Russian military.
"After the plane crash, Europe's rhetoric has become much tougher," Dmitry Postolenko, who manages about $110 million at Kapital Asset Management LLC in Moscow, said by phone on July 24. "This is unpleasant for banks since the U.S. and European debt markets will be shut for them. The fewer borrowing options you've got, the higher the cost of borrowing."
Sberbank, the nation's biggest lender, slumped 6.4 percent in Moscow last week. VTB, the second-largest, fell 0.3 percent. Russian investment-grade companies face about $112 billion in refinancing needs in 2015 through 2018, the fourth-largest in Europe, according to a Moody's Investors Service report sent by e-mail July 23.
Russian corporate foreign-currency bond sales have tumbled 67 percent this year to the lowest level since 2009, according to data compiled by Bloomberg. Bonds, stocks and the ruble slumped on July 17 after the U.S. leveled new sanctions against Russian companies, blocking OAO Rosneft, OAO Novatek, Gazprombank and Vnesheconombank from accessing its equity or debt markets for new financing with maturities longer than 90 days.
Before it's here, it's on the Bloomberg Terminal.
LEARN MORE