Zillow Taking Page From GrubHub Speeds Profit: Real M&A
Tara Lachapelle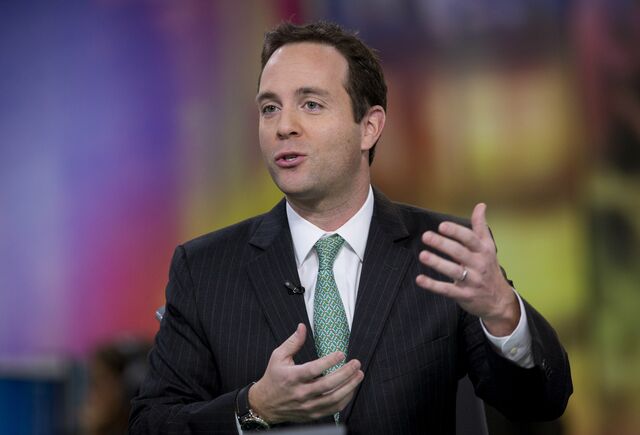 Zillow Inc. and Trulia Inc. shareholders have reaped $1.9 billion in two days from a deal that hasn't been announced yet. That may be just the beginning.
Investors are cheering a merger of the No. 1 and No. 2 U.S. real estate websites after Bloomberg News reported an agreement may be announced as soon as next week. To gauge just how beneficial a tie-up of Zillow and Trulia might be for shareholders, Telsey Advisory Group says to look to last year's merger of GrubHub Inc. and Seamless. GrubHub, which offered a service almost identical to that of Seamless, has surged 36 percent since going public in April, outperforming the Bloomberg Initial Public Offering Index.
Unlike recent Internet takeovers that helped buyers branch into new services, this merger would mimic the GrubHub deal by bringing together two very similar businesses -- and reduce marketing and overhead expenses so significantly that CRT Capital Group LLC sees the combined entity getting close to turning a profit. With Trulia, Zillow would gain the fastest-growing publicly traded Internet-based service in the U.S., with revenue projected to quadruple by the end of 2018, according to analysts' estimates compiled by Bloomberg.
"These two companies have virtually identical business models," Tom White, a New York-based analyst at Macquarie Group Ltd., said in a phone interview. "You've got them duking it out in terms of advertising spending, and it just seems like there are a lot of synergies to combining. This could pave the way to these companies becoming more profitable more quickly."
Stock Surge
Zillow is seeking to buy Trulia for as much as $2 billion in cash and stock, according to people with knowledge of the matter, who asked not to be identified because the information is private. Zillow may pay about two-thirds of the purchase price with its own stock, one of the people said.
Matt Flegal, a spokesman for San Francisco-based Trulia, declined to comment. Katie Curnutte, a spokeswoman for Seattle-based Zillow, couldn't be reached for this story. She declined on July 24 to comment on the potential deal.
Zillow shares have risen 26 percent in the two days since the Bloomberg News article, while Trulia's jumped 39 percent to a record as shareholders in both companies showed support for the transaction. Their market values have increased a combined $1.9 billion.
More Eyeballs
Together the Zillow and Trulia networks had more than 68 million unique visitors in June, representing about 71 percent of all visitors to ComScore's real estate category. That includes desktop and mobile users, ComScore said. They'd represent at least a 50 percent to 60 percent share of unique visitors to real estate sites, said Neil Doshi, an analyst at CRT Capital in Pleasanton, California.
"This deal provides a tremendous amount of scale," Doshi said in a phone interview. "It's almost like a Google or a Facebook, once you get scale and there's enough traffic coming to your site, then ultimately we think the advertising dollars will follow. And from a real-estate agent perspective, agents are going to go where the eyeballs are."
An offer for $2 billion would imply about $54 a share for Trulia. The stock surged above that price yesterday to $56.35, implying traders are betting Zillow will have to pay more than that.
"The $2 billion number may be light from a shareholder perspective," James Cakmak, a New York-based analyst at Telsey, said in a phone interview. "Where it's trading implies that."
'Godzulia'
The valuation Priceline Group Inc. paid this month for online restaurant-booking service OpenTable Inc. implies about $63 a share for Trulia, according to Lloyd Walmsley, a New York-based analyst at Deutsche Bank AG. Even at that price, there may be almost 20 percent upside for Zillow, Walmsley wrote in a report yesterday entitled "Godzulia?"
Zillow had a $12.5 million loss in 2013 after posting two years of net income, and Trulia has never been profitable, according to data compiled by Bloomberg dating back to 2007.
Doshi of CRT Capital estimates about $150 million of annual synergies from the deal, which he said "can get you very close to being GAAP profitable." GAAP refers to the generally accepted accounting principles, the standard for U.S. companies.
GrubHub's purchase of Seamless, which combined two of the top U.S. food-delivery websites, closed in August of last year. GrubHub listed on the New York Stock Exchange in April and its value has risen to $2.8 billion. Amid its gains, the Bloomberg IPO Index -- which tracks the performance of stocks in their first year of trading -- has slipped 0.8 percent.
"It's kind of a case in point of how quickly you can realize efficiencies on the marketing side," Cakmak of Telsey said.
Deal Departure
The potential Zillow-Trulia deal strays from the recent trend, where Internet companies have been expanding through acquisitions of varying types of services -- as long as they bring along lots of users. In February, social-networking site Facebook Inc. announced a $19 billion takeover of WhatsApp Inc., the text-messaging mobile application. Priceline paid $2.6 billion for OpenTable to add restaurant bookings to its travel business. In January, Google Inc. bought Nest Labs Inc. for $3.2 billion to gain a popular seller of Web-connected home thermostats and smoke alarms.
Perhaps Zillow is next -- after its Trulia purchase. It's possible that a technology giant such as Google could someday look to buy Zillow, said Macquarie's White. Real estate doesn't seem to be a priority for such companies right now, though it could be of interest in the future, he said.
"Somewhere down the line, could I make a case that a company like Google might be interested in Zillow?" White said. "As long as Zillow stays purely an advertising platform, yes, I think you could make that case over the long term."
Before it's here, it's on the Bloomberg Terminal.
LEARN MORE