Subway Inn to Close After 77 Years in Midtown Manhattan
Jonathan LaMantia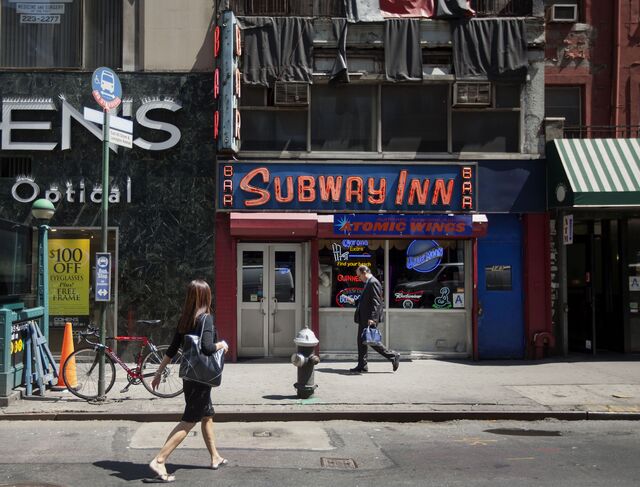 Subway Inn, the New York City institution that clung to its dive-bar roots even as its Upper East Side neighborhood sprouted steel-and-glass office and apartment towers, is serving its last drink.
The bar, which opened in 1937, will close on Aug. 15 and seek another location, according to a notice on its Facebook page. A bartender who would give his name only as Steven S. and said he was the son of the owner, confirmed yesterday that the building's landlord had given it notice. A spokesman for World-Wide Group, the building's owner, declined to comment.
"This place is New York," said Alex Kalich, 32, as he sat at the bar sipping a vodka and soda yesterday. "This is what New York used to be like. It's a place with a soul."
The bar is the latest casualty of rising rents and fierce competition for space to build housing and offices in Midtown. Rodeo Bar, the Murray Hill honky-tonk, said this month that it will close this weekend after 27 years in business.
Across from Bloomingdale's at 60th Street and Lexington Avenue, and adjacent to a subway entrance, Subway Inn's neon sign has beckoned patrons daily from its 10 a.m. opening time. Inside, a photograph of Marilyn Monroe recalls the legend that it was among her neighborhood haunts while filming the 1955 film "The Seven-Year Itch."
TV, Books
The bar has made several appearances in television and novels, including Anthony Bourdain's travel show "The Layover" and the CBS drama "Person of Interest." It was also mentioned in Donna Tartt's "The Goldfinch," which won the Pulitzer Prize for fiction in 2014.
Elias Gutierrez, a 44-year-old interior designer at Thomas Britt Inc., said he first came to the bar about 10 years ago after an argument with his boss. He ordered a rum-and-Coke, and when he returned two months later the bartender remembered his drink. After becoming a regular, he said he became close friends with the bartenders. No local bar has the same welcoming atmosphere, he said.
"This is an American icon," Gutierrez said as The Eagles' "Hotel California" played on the jukebox. "People walk to and by this block for this place."
The Subway Inn will seek out another location in the neighborhood to cater to the many regulars who live and work in the area, the bartender said.
Before it's here, it's on the Bloomberg Terminal.
LEARN MORE