The Melting Arctic Makes Way for $20,000 Luxury Cruises
By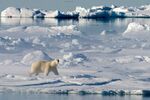 If you long to see, up close, an actual polar bear clinging to an actual shrinking ice floe, here's your chance.
Because of climate change and the melting of the Arctic, the cruise line Crystal Cruises plans to send passengers on what it bills as the first luxury ship to "traverse the Northwest Passage." The ship, Crystal Serenity, will set sail beginning in August 2016 on "a mystical Pacific-Atlantic sea route far beyond the Arctic Circle that for centuries captured the imaginations of kings, explorers and adventurers." The cruise will last 32 days and fares start at $20,000.
Part of the reason that the Northwest Passage captured so many imaginations for so many centuries was that it was choked with ice and impossible to navigate. Climate change has set off a scramble to control the now-accessible shipping routes and mineral rights. The Crystal Serenity is simply following the wakes of the freighters that are already plying the Arctic.
Climate-change tourism is an odd proposition. Crystal's Northwest Passage cruise promises kayaking and tundra treks, up-close sightings of polar bears, narwhals, musk oxen, and caribou. These are encounters, in other words, with the inhabitants and distinctive elements of the world that climate change—the same thing that's allowing the cruise to take place—is threatening.
The company says it intends to use the cruise to teach customers about climate change. "During this voyage, speakers will enlighten guests on information regarding climate change, and how it has impacted this passage," Thomas Mazloum, Crystal's executive vice president, told the maritime website gCaptain.
The appeal of a trip like this is a bit like that of a trip to Castro's Cuba: There's an implied expiration date to the experience, and that makes people eager to go before the place changes irrevocably. Greenland is seeing a new tide of tourists as it warms and its glaciers melt. In a few decades, a picturesquely rundown Havana and a picturesquely snowbound Arctic might both be things people wistfully describe to their grandchildren.