Buying Twitch Gets Google More Than Video Game Spectators
By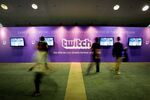 Google appears to have reached an agreement to buy Twitch, a company whose main business is live-streaming videos of people playing video games. A pending deal was first reported by Variety in May, and now VentureBeat says an arrangement has been finalized and will be worth more than $1 billion. If such a deal goes through, it would be a massive validation for the burgeoning industry of watching other people play games.
Video game competitions have emerged as a business big enough to support tournaments with multimillion-dollar purses and stadiums in California and Macau. Live-streaming capabilities are now built into gaming consoles and mobile devices. All of this means that Twitch would be having its moment, even without Google's interest. (Google and Twitch both declined comment.)
Twitch was founded in 2011 and now has 50 million unique users. Seven million people log on to the website each day, and 1.1 million people post videos to the site each month. Many game publishers and developers also use the system. While Google's YouTube dominates online video, Twitch actually has a pretty firm grasp on this particular corner of the market.
Google is well aware that gaming makes up a sizable amount of the activity on YouTube. In 2012 the tech giant participated in a $35 million funding round for Machinima, an online entertainment network based on gaming-related content. While Twitch hosts its own videos, recently it's been integrating more tightly with YouTube. Last month it announced a feature that would notify people watching gameplay videos on YouTube when the creators of those videos were streaming live video on Twitch.
But a deal for Twitch may not be just about capturing the big audience for videos of video games. Twitch also has technological chops that could appeal to Google. It spent the last few years building a network of data centers to handle the immense amount of traffic it generates. The startup has also been hosting an expanding roster of live-streamed events, including conferences and conventions such as Chicago and New York Comic Con and E3. These could be useful to Google, which has been in the process of bolstering its own lineup of live events on YouTube.