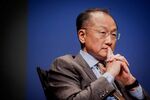 There will always be a need for a World Bank. There is no need for a World Bank with more than 10,000 employees.
President Jim Yong Kim is trying to reform the bank, one of the global financial institutions that emerged from the historic Bretton Woods agreements signed on July 22, 1944. He is getting strong resistance from a rank and file protective of its parking subsidies, business-class travel, and generous meal allowances. The danger for Kim, however, is that he will be too timid.
By its own admission, the bank is fighting for relevancy now that many of its customers don't need it anymore. The developing world's rising middle class is attracting private capital and reducing the need for countries to borrow from the World Bank. More than $1 trillion a year now flows from the private sector and major philanthropies to developing economies. Official development assistance, by contrast, totals about $125 billion. Last year, the World Bank's new lending came to less than $35 billion.
As of this month, Kim is switching the organization from six geographic regions to 14 global practices, or areas of expertise, including public health, energy, agriculture, and governance. The idea is that this will encourage more cross-border collaboration—so an expert in, say, electricity generation could advise any government, whether it's in Asia or Africa. Kim also intends to cut $400 million, or 8 percent, from the budget and about 1,000 employees in coming years. At the same time, he is narrowing the bank's focus to eradicating extreme poverty and raising the incomes of the poorest 40 percent by 2030.
This is a useful and overdue refocusing. It could be more ambitious still. Where private capital is willing to step in, for example, the bank should step back. Most important, the bank should rethink its basic approach to financing public projects.
Of the handful of institutions that emerged from the three-week gathering seven decades ago at New Hampshire's Mount Washington Hotel, the World Bank has most outlived its purpose. It still has a role to play. But to be truly relevant again, it will have to do more than make changes to its organizational chart.
Before it's here, it's on the Bloomberg Terminal.
LEARN MORE