The Next Thing in Farm-to-Table? Mobile Slaughterhouses
The locavore movement graduates from greens to meat
By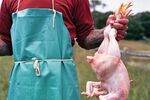 In Martha's Vineyard, it's not hard to grow, harvest, and sell local produce to residents and summer visitors. Many customers are happy to even pick their own berries, tomatoes, and sweet corn. Locally raised meat, though, is a challenge: Livestock has to be killed, a messy business that can be unwelcome in the affluent enclaves where demand for artisanal foods is highest.
Enter the Island Grown Initiative, a nonprofit that sends trained butchers to slaughter, scald, and pluck chickens and ducks at the small farms where the birds are raised. They arrive in pickup trucks towing everything they need to process poultry: knives, a scalder, and a board lined with stainless steel "kill cones" to drain blood from the birds' necks. The animals are cleaned and packed on plastic folding tables set out under white tents.
Like the farmers' markets and food trucks that have proliferated to feed the farm-to-table craze, mobile abattoirs offer low overhead and flexibility with none of the hassle and expense of building a stationary operation. Island Grown is one of about 20 rolling slaughterhouses the U.S. Department of Agriculture says operate around the country, butchering not just fowl but also cows, pigs, and sheep for small producers.
Growers outside Seattle were among the first to start mobile slaughter operations a decade ago, but they've multiplied in recent years. Roving units now process lambs and goats in California, elk and boar in Texas, and buffalo in Nebraska. Some stick to regional game: Kentucky State University runs one for turkeys, pheasants, and quail, and the University of Alaska campus in Nome has a mobile unit for processing reindeer.

The projects have gotten a boost from the USDA, which has given out $17 million in grants to small-scale meat producers since 2009, including at least four mobile slaughterers. "It offers local opportunities," says Agriculture Secretary Tom Vilsack. "You don't have to be a large operator, or a production-sized operator, to get into this business."
In some ways, the mobile operators restore a link in the food-production chain that was lost in the post-World War II consolidation of American agriculture, when small operators were squeezed out by bigger facilities that could offer economies of scale. Island Grown formed in 2007 to jump-start a local poultry industry on Martha's Vineyard. The group spent about $15,000 on a bare-bones processing unit and received $9,300 from the USDA for technical training and promotion. They've since invested in equipment for processing ducks, whose waterproof feathers require a dry plucker rather than the hot scalders used to de-feather chickens. In its first year, Island Grown killed 100 chickens; now, it's up to 10,000 annually. "We don't fit very well with Tyson and ConAgra, but we have customers who are willing to pay for the meat," says Ali Berlow, who helped design Island Grown's slaughter truck.
As with other rolling outfits, success has prompted thoughts of setting down roots. With a $40,000 grant from the USDA, Island Grown recently conducted a study that concluded a fixed slaughterhouse with capacity for handling cows and sheep along with chickens could be built for what it costs farmers to take their animals to the mainland for slaughter. "If we're going to do this right, we need cattle," says Richard Andre, who is coordinating the effort for Island Grown.
Other groups, though, say there's a value in staying mobile. Glynwood, a nonprofit dedicated to rural preservation in New York's Hudson Valley, is looking to get back into the rolling slaughter business after the dairy farmer who ran its previous mobile operation, from 2010 to 2012, opened a brick-and-mortar meat plant to serve farmers in the Catskills. That left out chefs and artisanal butchers in the area who want to cut and wrap the animals they kill, says Sara Grady, Glynwood's vice president for programming.
Vineyard-killed chicken sells for as much as twice the grocery store price, says Daniele Dominick, owner of Scottish Bakehouse, a restaurant in Vineyard Haven that sells pulled-chicken plates made from birds raised across the street. "You can't just buy from everyone who stops by wanting to sell you kale," Dominick says. "Livestock is an opportunity."
BOTTOM LINE -
The bottom line: Small farmers are turning to rolling slaughterhouses to sell locally grown, butchered poultry and meat.
Before it's here, it's on the Bloomberg Terminal.
LEARN MORE