Snowpiercer: Indie Savior or Casualty?
Weinstein's acclaimed film went video-on-demand, not wide
By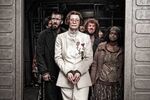 Depending on whom you ask in the film world, the U.S. release of Snowpiercer is either a revolution or a travesty. Directed by Korean auteur Bong Joon-ho and starring Captain America's Chris Evans, the dystopian flick is set on a futuristic train hurtling around a frozen earth. With a 94 percent rating on review aggregator Rotten Tomatoes, it's become a critical darling. In its opening weekend in late June, the film made $171,187 from just eight screens, playing sold-out shows in New York and Los Angeles.