Snowpiercer: Indie Savior or Casualty?
Weinstein's acclaimed film went video-on-demand, not wide
by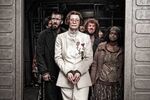 Depending on whom you ask in the film world, the U.S. release of Snowpiercer is either a revolution or a travesty. Directed by Korean auteur Bong Joon-ho and starring Captain America's Chris Evans, the dystopian flick is set on a futuristic train hurtling around a frozen earth. With a 94 percent rating on review aggregator Rotten Tomatoes, it's become a critical darling. In its opening weekend in late June, the film made $171,187 from just eight screens, playing sold-out shows in New York and Los Angeles.
Then, in its third weekend in release, when many studios would try to roll their small movies out to thousands of screens nationwide, distributor Radius-TWC took a different tack. While expanding to 356 screens, Snowpiercer also became available in 85 million homes on video-on-demand, making it the widest-ever simultaneous theatrical-VOD release. The film's per-screen revenue dropped precipitously, to $1,785. But the movie also did about $2 million on VOD and iTunes that same week—a record for Radius and its parent, Weinstein Co. The film spent most of its first week atop the iTunes charts, beating out hits such as Rio 2 and The Other Woman. "We're outflanking these bigger players, at a fraction of the cost," says Radius co-President Tom Quinn.
Sheer economics has driven the film's unusual strategy. It would have cost at least $25 million to market a 2,500-screen theatrical release for Snowpiercer, Quinn says. While he won't divulge what Radius spent to market the film, multiple outside estimates put it at about $5 million. The low-cost VOD approach makes it a lot more likely the film will be profitable.
Having acquired North American rights after seeing early footage and reading the script, Weinstein co-founder Harvey Weinstein initially envisioned releasing the film in theaters on thousands of screens. "When I saw the final movie with the very artistic flourishes that we all love, I thought, 'It's not for a wide audience, it's a smart movie for a smarter audience,' " he told Indiewire, a film site, in July. So he renegotiated for a smaller release through Radius, Weinstein's boutique distribution arm, run by Quinn and Jason Janego. They were eager to test a model that sent a film to VOD while also screening it in many more theaters than the handful usually used for an independent film simultaneously released on VOD.
Indiewire's Anne Thompson and Tom Brueggemann crunched the numbers, comparing the potential returns of a successful wide theatrical release for Snowpiercer and a successful theatrical-VOD combination. Their conclusion: The theatrical option would have ultimately netted about $18 million, after deducting all other costs and factoring in ancillary revenue from later VOD, home video sales, and streaming services such as Netflix. The current limited-release-VOD option may end up netting about $13 million.
Given the critical praise for the film, some insiders say Weinstein may have misread the theatrical market for the film and left money on the table. "Every once in a while, a smart movie comes along that also has the potential to be really commercial," says David Poland, editor-in-chief of film business site Movie City News. "Snowpiercer, with the right campaign, was a commercial movie. And when you have that, going straight to VOD is like killing it in the crib."
Yet Quinn points to other critically acclaimed genre movies—such as Children of Men and Drive, each of which made a disappointing $35 million in the U.S.—as proof that great reviews, action elements, and star power don't always guarantee success. He also made note of Snowpiercer's stalled box-office performance in France last year. It sold a total of $5.3 million in tickets there after an opening weekend of $2.2 million, despite being based on a popular French graphic novel. All that suggests the film might face challenges reaching a wider audience.
"As good as this movie is, it would have been a tough sell at the box office," says Gitesh Pandya of researcher Box Office Guru. "They have tremendous competition from other summer action movies." He also points out that VOD allows word of mouth to build without the specter of a dwindling number of screens showing the film: "You can have people still seeing this movie two months from now—that's hard to do theatrically."
That hard-nosed business approach doesn't sit well with many film insiders, who prefer the theatrical-release model because it gets people talking, attracts press coverage, and makes a film part of the cultural conversation in a way VOD rarely does. But in a business where most projects lose money, bottom-line concerns often trump art. "We joke that we're in an industry built on perceived success," Quinn says. "But at some point, you need to have actual success to survive."
Before it's here, it's on the Bloomberg Terminal.
LEARN MORE