Review: Welcome to Sweden, NBC's Sitcom Import
Welcome to Sweden is the latest foreign TV production to air in the States. Does the comedy translate?
By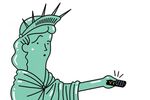 There's a recurring joke in Welcome to Sweden, a new half-hour comedy airing on Thursday nights on NBC, about how Americans are short. The show stars Greg Poehler as Bruce, a milquetoast accountant from Ohio who moves overseas to be with his Scandinavian girlfriend, Emma. "He's average?" asks Emma's mother, played by Swedish actress Lena Olin, upon meeting our Midwestern straight man. She answers her own question: "Maybe if you include children and Asian people!" There are also gags about how Swedish people drink a lot, sing weird songs at dinner, and like to take saunas naked. Bruce prefers to steam in board shorts.
This humor might land better if U.S. viewers had strong views on Swedish stereo­types, but most of our familiarity comes from Ikea desks and that zany Muppet chef. And in the first episode, at least, meatballs and Kermit don't make an appearance. The action switches back and forth between English and subtitled Swedish, and during a bit in which Bruce is humiliated yet again for not understanding the language, it becomes clear that the series might play better elsewhere. Like, in Sweden?
It did. Poehler created the semi-autobiographical show while living in Stockholm with his wife and kids. It was commissioned by Sweden's TV4 as its first-ever English series, aired for a successful 10-episode run this spring, and has been re-upped for a second season. It's also executive produced by Poehler's sister Amy, whose NBC comedy Parks & Recreation is heading into its seventh and final season this fall. The American network acquired Welcome to Sweden in no small part because of that relationship. "We adore Amy's sense of humor, and because they're siblings, we believe Greg's comedy sensibilities are similar," says Quinn Taylor, executive vice president for movies, miniseries, and international co-productions at NBC. "With her vast television experience, Amy helped shepherd Greg through the process of getting the show picked up," he says.

Acquiring already-produced series from other countries is becoming more popular for networks trying to find cheap ways to fill year-round lineups. Welcome to Sweden is the first from that country, but there are a number from Canada, including BBC America's Orphan Black, ABC's Rookie Blue, and the CW's Seed. And Welcome to Sweden is followed at 9:30 by a Canadian import called Working the Engles, about a rich family who, after the patriarch dies, discovers it's severely in debt. (It's a sour version of Arrested Development; skip it.) "While these programs may be produced elsewhere, we often find ones that can reach a diverse audience," Taylor says. "What works in Europe and Canada, for example, could easily work in the U.S."
Not so sure about that. Certainly action-driven dramas such as Orphan Black, in which the remarkable actress Tatiana Maslany plays a boatload of clones, translate easily. And British TV appeals to our collective, growing anglophilia, as proved by PBS's success with Downton Abbey and Sherlock. But a sitcom from a non-­English-speaking country, even one written by an American, is trickier. Humor is highly subjective. What we find funny over here—comedies about science nerds, Ellen, nostalgic BuzzFeed lists—isn't necessarily going to make someone in Sweden laugh, and vice versa. NBC says the use of subtitles "isn't a concern," nor should it be. Audiences are sophisticated enough not to be put off by some words on the screen.
The larger issue is: Are those words amusing? On that count Welcome to Sweden has some work to do. At an NBC press conference, Greg Poehler said that in Sweden, "we got above 2 million viewers in a country of 9 million. It's a crazy hit there." Here it had a soft debut, pulling in 3.5 million viewers. The show's not bad—it's appealingly sweet. The second episode is better than the first. It centers on how Bruce and Emma, living with her parents, can't find a time to have sex, and ends with the couple listening to Emma's mom and dad getting it on. Clearly, the good old ­parents-boning-loudly gag is something every country can get behind.