Airline Legroom: Boeing and Airbus Help Shrink It Even More
Plane makers are adding seats to help airlines boost profits
By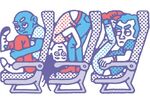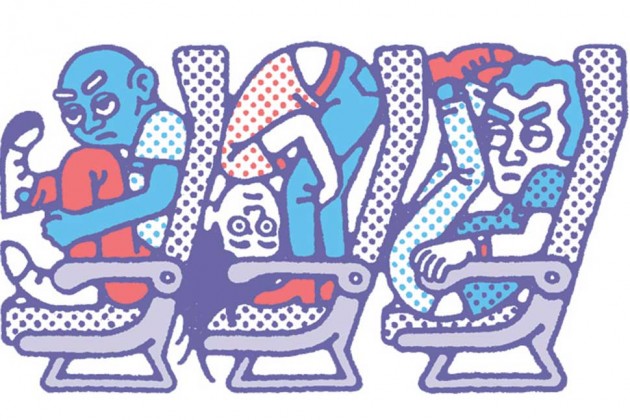 Steven Ekovich, a Tampa-based golf course broker, has devised some creative strategies to eke out a little extra space in coach during frequent business flights on Southwest Airlines, which has open seating. "I always try to grab a seat in the aisle or window," says the 6-foot-1 managing director at real estate firm Marcus & Millichap's. To fill the middle seat next to him, he says, "I always find the skinny woman in the crowd and invite her to sit down."
Soon, that might not be enough to minimize Ekovich's discomfort. In an industry where every square inch is mined for revenue, the big squeeze is on in the back of the plane. Carriers are changing the shape of lavatories, streamlining galley areas where they store drink carts, and adding "slimline" seats with thinner padding to shave centimeters off the distance between rows.
Boeing announced this month that it will build a new version of the narrow-body 737 Max 8 aircraft with as many as 200 seats. That's 11 more than the Max 8 that was already under development. Airbus Group is adding 9 seats to the coach cabin in a competing jet, the A320neo, increasing the total to 189.
Lauren Penning, a Boeing spokeswoman, says it's up to airlines to determine how to add the extra two rows. That could mean changing the size or location of lavatories or reducing space between seats by 2 inches. "We're just giving our customers another option to make more revenue," Penning says. Industry consultants say Boeing is likely to find buyers for the 737 Max 8 variant outside the U.S. The 200-seat model is meant for all-economy airlines, such as Dublin-based Ryanair, which are more prevalent in other countries.
Low-cost carrier Spirit Airlines is known for its leg-cramping 28-inch pitch—the distance from one seat to the same point in the row ahead—vs. the 30-inch industry standard. Bob Mann, a Port Washington (N.Y.)-based consultant, says Boeing may need to shrink the distance even more to add 11 seats. "It is so austere that it would be even beyond the pale of Spirit," he says. Penning says only that an airline could add 11 seats to the new 737 Max 8 variant without dropping to 27 inches. For now, Spirit only has single-aisle Airbus jets in its fleet, but it might look at Boeing in the future, says Charlie Rue, the vice president in charge of the carrier's supply chain. "We look at a lot of things," Rue says of Boeing's new 200-seat offering. "I wouldn't say anything more than that."
In recent years, airlines have constantly tweaked their coach cabins to add seats and improve economics, says Ranga Natarajan, a senior product manager at travel website SeatGuru.com. In Boeing's popular 777 widebody jet, most airlines have moved from a roomy 9 seats across to a tighter 10. Carriers also narrowed coach seat widths to 17 inches from 18 inches and introduced seats that don't recline as much, he says.
Airbus may have the most radical idea yet for saving space: a bicycle-like seat with a back rest. According to European patent documents, the seat folds down when not in use. Mary Anne Greczyn, an Airbus spokeswoman, plays down the patent application as a "nonstory" and says the seat is a concept only. Frequent flyers hope she's right.