IPOs Get Bigger but Leave Less for Public Investors
As companies stay private longer, public investors miss out on gains
by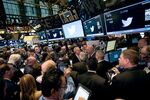 Initial public offerings used to offer investors chances to get in on the ground floor of young, fast-growing companies. There was risk, of course, but also the possibility of enormous rewards. Amazon.com went public in May 1997, less than three years after it was incorporated, and has since returned almost 24,000 percent to people who got in at the IPO price.
These days IPO investors are more likely to get in somewhere around the sixth floor, when companies are well beyond infancy and maybe approaching middle age. Alibaba Group Holding, the Chinese Internet giant, is a case in point. Founder Jack Ma has waited 15 years to take it public, raising money along the way from Yahoo! and SoftBank. The company's IPO on the New York Stock Exchange later this year could value it at $150 billion, making it the biggest in U.S. history.
The size of recent IPOs is a sign that companies are stretching the limits on how big they can get while remaining private. It used to be rare to spot a tech company that had a valuation of $1 billion based on private investments, but "now we're sighting 'unicorns' everywhere," says Kate Mitchell, managing director at Scale Venture Partners.
Since 2001, companies have had an average age of 11 at the time of their U.S. IPOs, compared with 5 at the peak of the dot-com bubble in 1999-2000 and 7 to 9 in the previous two decades, according to Jay Ritter, a University of Florida finance professor.
The number of U.S. companies taking their shares off public exchanges has exceeded the number of new listings, causing the ranks of public companies in the U.S. to fall 36 percent since 2000, according to the World Federation of Exchanges.
Venture capitalist Marc Andreessen sees all of this as a sign of trouble. In an interview with the website Vox posted in June, he mourned "the effective death of the IPO" and said that small investors are disadvantaged because by the time companies go public, their boom days are over. "Gains from the growth accrue to the private investor, not the public investor," said Andreessen, general partner of Andreessen Horowitz in Menlo Park, Calif. (Bloomberg LP, the parent of Bloomberg Businessweek, is an investor in Andreessen Horowitz.)
In Andreessen's opinion, overregulation is largely to blame. CEOs of startups are choosing to stay private to avoid having to comply with Regulation FD, issued by the Securities and Exchange Commission in 2000, and the Sarbanes-Oxley Act of 2002, both of which heaped new disclosure requirements on public companies, he said.
The changing nature of the IPO market isn't all bad—and it's not clear how much regulation has to do with it. Today's newly public companies are more seasoned and less likely to go bust, says Ritter. Many still have a lot of growth ahead of them, says Greg Becker, chief executive officer of Silicon Valley Bank: "Companies are disrupting traditional businesses in ways we haven't seen before, going after bigger market opportunities and growing faster."
Compared with the past, companies have many more ways to raise funds, according to Glenn Kelman, CEO of Redfin, an online real estate brokerage that's private. Companies such as Fidelity Investments and T. Rowe Price are putting money into companies before they go public, allowing them to stay private longer. And more entrepreneurs have no intention of going public. Their goal is to be absorbed into companies like Facebook or Google.
In contrast, there's been a boomlet in IPOs in biotech, where CEOs are betting their companies can stand alone, at least for a while. The IPO is not, as Andreessen would have it, effectively dead. But it does appear to be aging.
Before it's here, it's on the Bloomberg Terminal.
LEARN MORE