A Top Indian Politician Faces Murder Charges
Amit Shah, leader of the BJP, is a confidant of the new prime minister
By and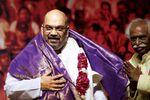 Indian Prime Minister Narendra Modi chose a man with both political gifts and political baggage to run India's ruling Bharatiya Janata Party (BJP). Amit Shah has a record of winning tough election campaigns. And he faces murder charges filed by India's equivalent of the FBI.
The case stems from the 2005 slaying of a married couple and the 2006 killing of a man in the state of Gujarat, where Shah was home minister. The charge is that he was a key conspirator in the plots to murder the victims. Shah denies any wrongdoing. His bid to have the case dismissed is pending before a Mumbai court. Robin Mogera, a lawyer representing Shah, declined to discuss the specifics of the case. Shah would not agree to an interview.
That Modi, who in May won in the biggest landslide in 30 years, picked Shah for the post on July 9 says a lot about the confounding nature of Indian politics. "A new low," said Ramachandra Guha, a historian and author of books on Indian politics, in an e-mail. "That such a man could be chosen head of the ruling [party] without a word of dissent or debate within the party itself is a very unhappy omen for Indian democracy."
Shah has blamed hostile political forces for framing him in a case that he says is built on false testimony. "It was all a political game, that's all," says Ram Jethmalani, an attorney who handled an earlier part of Shah's case. "There is no possibility of any conviction under any circumstances." Shah spent three months in custody in 2010 on the charges before being granted bail.
Modi has made his support for Shah clear. "Under his leadership the party will definitely see enhancement," he tweeted. "Amit … has repeatedly proven himself through tireless hard work & determination." Shah "is one of the few people who has been close to Modi, a man who is considered to be somewhat of a loner," says Milan Vaishnav, an associate in the South Asia program at the Carnegie Endowment for International Peace in Washington. When Shah speaks, "people understand he is conveying a message from the PM." An e-mail to Modi's spokesman, Jagdish Thakkar, went unanswered, as did a request for an interview through the prime minister's website. A BJP spokesman, retired Captain Abhimanyu Sindhu, says the party believes that the charges are politically motivated and that Shah will be vindicated.
The Central Bureau of Investigation has accused Shah of running an extortion racket while he was Gujarat's home minister, the state's top law-and-order post. The operation, according to the Supreme Court's summation of the CBI's case, was protected by the police under Shah's command. After a suspected criminal named Sohrabuddin Sheikh allegedly helped kill a man, then took over his victim's protection racket and started harassing local businessmen, police officers pulled Sheikh and his wife off a bus in November 2005, according to CBI court filings. A few days later, the agency says, police murdered Sheikh, and his wife was "thereafter eliminated." Her body was covered with hay, doused with gasoline, and set on fire, according to the agency's account in a court record. Throughout, Shah was "pivotal" to the conspiracy, the CBI said in a court filing.
A third victim, Tulsiram Prajapati, who'd allegedly assisted Sheikh in a previous killing, according to a CBI court filing, was also taken off the bus. He appeared in court on a separate case in November 2006 and said he believed he'd been targeted for a "fake encounter"—slang for murder by cop. A month later, he was killed just as he predicted, according to the Supreme Court's description of Gujarat's legal filings. Gujarat officials initially explained that Sheikh died in a shootout with police. The Gujarat government has since said the slaying was stage-managed.
Shah is from a wealthy family, while Modi is the son of a tea stall owner; they met in a conservative Hindu group. Modi, chief minister of Gujarat and Shah's boss at the time of the murders, has never been connected to the case. In May's national election, Shah ran the campaign in Uttar Pradesh, where the BJP ran fourth in the 2009 parliamentary contest. With Shah in charge, the BJP took 71 of 80 seats there, helping Modi win the biggest mandate since 1984.
The implications of Shah running the BJP with charges pending are hard to predict. "If at any point Amit Shah is convicted, then naturally Modi will become vulnerable," says Satish Misra, an analyst at the Observer Research Foundation in New Delhi. At the news conference where Shah's role was announced, he and Modi sat together, wearing traditional tunics. When outgoing BJP President Rajnath Singh spoke of Shah's acumen, Modi made a show of approval, then handed Shah a sweet and wreathed him in flowers. As Shah faced the cameras, someone leaned in to ask, "Are you going to speak?" Shah shook his head no.
BOTTOM LINE -
The bottom line: Amit Shah is a skilled political operative who could become a liability to the ruling party if convicted of murder.
Before it's here, it's on the Bloomberg Terminal.
LEARN MORE