business
High-Frequency Traders Find Microwaves Suit Their Need for Speed
High-frequency firms find microwaves are faster than fiber
By , , , and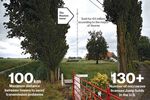 An 800-foot microwave tower in a Belgian cow pasture transmitted messages for the U.S. armed forces during the Cold War. Now it has been enlisted in financial combat, as high-frequency traders fight to shave microseconds off transmission times. Jump Trading, a Chicago-based high-frequency firm, bought the tower last year through a U.K. affiliate called Toren Navo Aansluiting, according to documents filed in the U.K. and Belgium. The company's name is Dutch for "NATO connection tower."
Fiber-optic cable used to be the choice of electronic trading firms such as Jump that are locked in a contest to be the fastest. Now they're adopting microwave technology, which can convey data in almost half the time, to squeeze profit from tiny, fleeting price discrepancies in assets traded around the world. "It really comes down to defending your position," says Peter Nabicht, a senior adviser to the Modern Markets Initiative trade group and the former chief technology officer at high-frequency trader Allston Trading. "If one person goes to microwave, they have a distinct advantage, so other firms have to go to microwave, too, to maintain their relative speeds."
Jump's purchase of the tower in Houtem, Belgium, comes as high-frequency traders in the U.S. face questions sparked by Michael Lewis's book Flash Boys, in which he accused the industry of rigging markets. Jump was one of the firms to receive subpoenas from New York Attorney General Eric Schneiderman, who's looking into whether electronic traders profit from nonpublic information, a person with knowledge of the matter said in April.
Co-founded by Chicago Mercantile Exchange floor traders Bill DiSomma and Paul Gurinas, Jump has spent 15 years ascending the ranks of high-frequency firms to become one of the most active traders on the CME, where $925 trillion of derivatives changed hands last year. The secretive company, which makes few disclosures about its inner workings or finances, has about 350 employees who work in offices in Chicago, New York, London, and Singapore. In 2010, Jump reported net income of $267.8 million and operating revenue of $511.6 million for that year, according to filings with the Securities and Exchange Commission. At the end of March it owned stocks valued at $239 million, according to data compiled by Bloomberg from a regulatory filing. DiSomma and Gurinas did not respond to requests for interviews.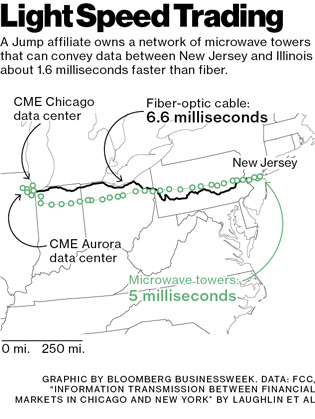 Jump guards its privacy. In April it sought to force Twitter to disclose who was posing as one of its employees. After the reports of Schneiderman's subpoena, Jump erased most of its website. "From what I understand, they've made billions in profits," says James Koutoulas, chief executive officer of Typhon Capital Management in Chicago, who says he has friends with ties to Jump.
The firm, which invests only its own money, hired programmers to build complex algorithms for trading U.S. and European equities, futures, currencies, and bonds. Unlike other firms that lease microwave towers, Jump buys them. "We have become an industry leader, quietly setting the standard for sophisticated trading strategies," Jump said on an older version of its site.
One of the firm's specialties is trading on information contained in government statistical releases, according to two competitors of the firm and a former employee. In advance of the monthly announcement of the U.S. unemployment rate, for example, Jump might load its computers with one program designed to profit from a rise in the rate and one geared to profit from a fall in the rate. The computers are programmed to initiate the correct strategy tiny fractions of a second after the announcement, the former employee says. The automated trades exploit price differences between exchange-traded funds based on the Standard & Poor's 500-stock index and futures based on the S&P 500 traded at CME Group. Jump applies a similar strategy to other pairs of stock indexes and futures in the U.S., the U.K., and Germany, the person says.
To succeed in the U.S., Jump needed the fastest connection between Mahwah, N.J., where the New York Stock Exchange has a data center, and Aurora, Ill., where CME Group's servers are based. The firm was among the first to use microwave towers to send data between Illinois and New Jersey, according to executives at rival firms. World Class Wireless, which has the same address and senior managers as Jump, holds more than 130 microwave licenses in the U.S. and has transmission locations in Illinois, Ohio, Pennsylvania, New Jersey, New York, Delaware, Maryland, Indiana, and Washington, D.C., according to the Federal Communications Commission website.
A disadvantage of fiber is that it has to be routed around obstacles such as roads, rivers, and mountains, lengthening transmission times. Also, light travels more slowly through cable than it does through the atmosphere. Microwave has the potential to be faster because data gets shot in a straight line through the air from tower to tower. A drawback is that it can't carry as much data as fiber because the bandwidth is narrower and transmissions can be disrupted by poor weather.
Firms in the U.S. started experimenting with microwave transmissions four or five years ago, according to Hugh Cumberland, a manager at Colt Technology Services in London, whose clients include high-frequency traders. Microwave use has more recently moved to Europe. Custom Connect, based in Amersfoort, Netherlands, owns a microwave network completed in March 2013 that cut the round-trip time it took data to travel from Frankfurt to London to 4.43 milliseconds, about half the time it took to travel by cable, according to Jan Willem Meijer, the company's CEO. Trading firms pay Custom Connect to use the network.
Most firms that use microwave transmission back it up with a cable network, says Cumberland. Traders need multiple towers because signals run the risk of breaking up over distances of more than about 100 km (62 miles). Controlling a single tower wouldn't benefit a trader, unless the goal was to force rivals to go around it in a slower, less direct route or to hoard the frequencies that companies rely on to transmit financial data, according to Cumberland. "There are rumors in the industry that people have bought tower space or have bought frequencies that they don't use," Cumberland says. "We call it 'frequency squatting' or 'tower squatting.' "
Houtem, part of the municipality of Veurne, is about an hour and a half west of Brussels by car, near the English Channel. The U.S. Air Force gave up leasing rights to the tower when it decided to switch to a fiber network in 2006, according to a spokesman. The Belgian Ministry of Finance later sold the tower. Veurne Mayor Peter Roose says he was told the purchase price was €5 million ($6.7 million), though he was not told the identity of the buyer. "Someone paid a lot of money for it," he says.
Before it's here, it's on the Bloomberg Terminal.
LEARN MORE