Geico's Silly Ads Are Working
Karen Aho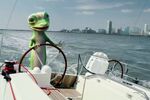 Give the gecko a raise. Geico's green mascot and its other anthropomorphic spokesmen pitched their way through $935 million in advertising in 2013, almost three times the average spent by the rest of the 10 biggest insurance companies.
The generous spending seems to be working. Geico's premium income increased 11.2 percent last year, according to figures from the Nomura Group compiled by Property Casualty 360. For the first time, the direct-marketing insurer passed Allstate to become the second-largest provider in the hypercompetitive auto insurance market. Geico reached $18.57 billion in auto premiums, still way behind State Farm, with $33.4 billion.
Advertising has always been particularly important to Geico—a subsidiary of Warren Buffett's Berkshire Hathaway—because it sells directly over the Internet. It doesn't have a network of agents, which means no one is out drumming up business. It also means that despite the big ad budget, Geico still spends a smaller ratio of its earnings on marketing and overhead.
State Farm's and Progressive's advertising budgets, at $608 million and $604 million, respectively, won the companies corresponding gains. State Farm collected a 5 percent increase in premiums; Progressive saw 6.5 percent growth. Allstate—think the "Mayhem" character and Dennis Haysbert—spent $655 million on ads and achieved a mere 3.5 percent growth.
The remaining top six insurers each spent less than $300 million on advertising. Among them, only Liberty Mutual experienced more than 10 percent growth in premiums, after boosting its ad spend 23 percent, to $197 million. The company kicked off a new advertising campaign on June 30 that positions it as the anti-Geico. While the gecko has long distracted and amused, Liberty Mutual is steering straight into the serious.
In the "See Car Insurance in a Whole New Light" spots, individual customers speak squarely into the camera about a car insurance issue. The Statue of Liberty is always seen in the background. "In a category where trivial humor can often distract from substance, we saw an opportunity to talk honestly with consumers," said Chief Marketing Officer Anthony Storm. Take that, gecko.