Facebook Shares Surge to Record as Mobile Ads Fuel Gains
Sarah Frier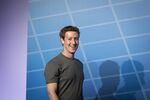 Mark Zuckerberg is staring down naysayers who hammered Facebook Inc.'s stock after its debut two years ago, as shares surged to a record today.
Facebook rose 5.2 percent to $74.98 at the close in New York, above its previous high of $72.03 set in March and pushing the company's market capitalization to almost $200 billion. Fueling the rise: The social network showed again that mobile advertisements are powering revenue and profit.
Facebook yesterday posted second-quarter sales that surged 61 percent to $2.91 billion, exceeding analysts' average estimate of $2.81 billion. Mobile promotions accounted for 62 percent of ad sales, up from 59 percent in the prior period. Net income more than doubled to $791 million, with profit excluding some items at 42 cents a share, above the projection of 32 cents.
The gains underscore how far Zuckerberg has brought the social network since its 2012 initial public offering, when its stock plunged on investor concern over the lack of mobile revenue. Now that the chief executive officer has made ads on smartphones and tablets Facebook's core business, he's building on that foundation with a mobile network to spread the company's ads across the Web and wireless devices, as well as with video promotions and by boosting the effectiveness of ads.
"You pay up for growth as long as it doesn't become excessively overvalued, and I don't think this is," said Martin Pyykkonen, an analyst at Rosenblatt Securities Inc.
Strong Rally
Facebook shares have already soared 183 percent in the past 12 months through today's close, the biggest rally in the Standard & Poor's 500 Index, according to data compiled by Bloomberg. The social network is now neck-and-neck in market capitalization with International Business Machines Corp. Analysts at Jefferies and Topeka Capital Markets Inc. also raised their price targets for the stock to $100, up from $80 to $85.
Facebook is among the most actively traded stocks in the S&P 500, with an average of 42 million shares changing hands in the past 30 days, according to data compiled by Bloomberg. Only Bank of America Corp. and Apple Inc. had higher volume.
By contrast, other technology stocks haven't recovered from a 19 percent selloff in the Dow Jones Internet Index that began in March. Twitter Inc. and Groupon Inc. have led the gauge lower with declines of more than 39 percent this year.
Charging More
Facebook's performance last quarter was spurred by brands and marketers paying higher prices for better-quality promotions, said Chief Financial Officer David Wehner, who took over June 1 from predecessor David Ebersman. Wehner said the average ad price more than doubled from a year ago, even as ad impressions declined 25 percent over the same period.
"Our tools and the products we're building are working," Chief Operating Officer Sheryl Sandberg said in an interview, adding that the company now has 1.5 million advertisers. "They're working to drive engagement, they're working to drive sales."
Facebook's revenue gain follows Google's results last week, when the Web-search company posted sales that exceeded analysts' estimates, largely based on the strength of online ads. Yet while Google reported a 6 percent decline in the average price of its ads, which was offset by a higher volume of promotions, Facebook has been able to charge more for fewer ads.
Taking Share
Facebook and Google are taking share from other Internet companies such as Yahoo! Inc., which last week reported a decline in quarterly sales and missed analysts' projections.
In total, Facebook accounted for 5.8 percent of worldwide digital ad revenue in 2013, up from 4.1 percent in 2012, according to EMarketer Inc. Digital ad spending worldwide rose 14.8 percent to $120 billion last year and is projected to reach $140 billion this year.
To capitalize on these trends, Facebook has been building its arsenal of advertising services. Apart from rolling out a video-ad product to compete for television budgets and a network for distributing ads on other developers' apps, Facebook this month agreed to acquire LiveRail, a startup that would help serve video promotions on the Web beyond the social network.
Zuckerberg has also been making multibillion-dollar acquisitions to diversify the company. Facebook in February said it would pay about $19 billion for messaging app WhatsApp Inc. This week, the company completed the purchase of Oculus VR Inc., which makes a virtual-reality headset that Zuckerberg has said will be a major communication device after mobile phones.
More Services
On the conference call, Zuckerberg signaled more services are in the offing, such as payments through its Messenger app. He said Facebook will also continue investing in new technology.
"We will clearly do work in payments," he said. "We still basically view ourselves as a partner to other companies in the payment space rather than trying to compete directly for that."
Facebook said it now has 1.32 billion monthly active users, up from 1.28 billion in the prior quarter, with 654 million using the product daily on mobile phones. Revenue per user was $2.24, up from $2 in the prior quarter and $1.60 a year earlier.
"Their advertising model is scaling very nicely," said Josh Olson, an analyst at Edward Jones & Co. "We've seen them take a very careful approach to advertising, doing things so that they don't alienate their audience."
Connecting People
Zuckerberg said on the call that Facebook continues to engage users, with the average U.S. consumer spending 40 minutes on the social network each day. Like rival Twitter, Zuckerberg added that Facebook is also helping people "connect around important public moments and personalities," which is helping to drive "conversations of a huge scale."
Facebook is also producing experimental apps in an initiative called Creative Labs, intended to fuel growth while retaining talented programmers who would otherwise leave to start their own ventures. The group has released several apps this year, including Paper, which makes a magazine-like experience for the social network, and Slingshot, for sending disappearing photo messages that can't be opened unless the recipient sends one back.
Before it's here, it's on the Bloomberg Terminal.
LEARN MORE