Women Artists Begin to Narrow the Gender Gap
Six women have set personal sales records in the past two months
by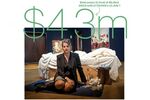 British artist Tracey Emin was in the crowd when My Bed—an unmade bed with rumpled sheets, empty vodka bottles, underwear, and cigarette packets—sold for £2.5 million ($4.3 million) on July 1 at Christie's in London, more than five times her previous high. "I was really nervous, and then six people started bidding," Emin says. "I thought it was just brilliant."
A five-year rally in prices for contemporary and modern art is lifting the value of works by women in a market long dominated by men. Six women set personal records in the past two months at auctions at Christie's, Sotheby's, and Phillips in New York and London. A 1960 Joan Mitchell abstract painting sold for $11.9 million at Christie's in New York in May, the most ever for a work by a woman.
Since 2004, works of art by the best-selling women have brought in 12¢ per dollar spent on those of their male counterparts, according to figures compiled by Bloomberg from the database of research firm Artnet. Women are starting to narrow that huge price gap as global collectors hunt for undervalued works. "There are more women artists who are getting their due," says Amy Cappellazzo, who runs advisory firm Art Agency Partners in New York.

Emin ranks 15th among living female artists, with sales of $13.1 million since 2004. David Maupin, her New York dealer at Lehmann Maupin gallery, called the price for My Bed a bargain for "a very important work." It sparked debate about the meaning of art when it was originally exhibited in London in 1998. In 2000 advertising mogul Charles Saatchi paid $255,000 for it. In the July 1 sale, it was bought by Emin's London dealer, Jay Jopling of White Cube gallery.
Mitchell, who died in 1992, is the top-selling woman of the past three decades: Her works brought in $293.3 million from 1985 through June 30. Her total tripled over the five years through June 30. "It is becoming apparent that she is equal to her male peers de Kooning, Kline, and Twombly—and that her prices were kept back only by her gender," says John Cheim, co-founder of New York gallery Cheim & Read, which represents Mitchell's estate. "There is still a long way to go, but she is catching up."
Works by German painter Gerhard Richter, the best-selling living male artist, brought in $1.29 billion since 2004, according to Artnet. Jeff Koons, who sold a blue stainless-steel dolphin resembling an inflatable plastic toy for $5 million last month at Switzerland's Art Basel, ranks second, with his work generating $581.8 million. The record for a single work is also held by a man. The late Francis Bacon's 1969 triptych Three Studies of Lucian Freud sold for $142.4 million at Christie's in New York in November. For $10 million less than that, you could buy the most expensive work by each of the top-selling 15 women, according to Artnet.
Women are being helped by "thoughtful, groundbreaking exhibitions" at major museums, says Suzanne Gyorgy, head of art advisory and finance at Citi Private Bank. Beatriz Milhazes, a Brazilian known for abstract prints and paintings that fuse Latin American and European imagery, has pieces in New York's Museum of Modern Art and Madrid's Museo Nacional Centro de Arte Reina Sofia. The subject of a retrospective at the Pérez Art Museum Miami starting on Sept. 19, she ranks eighth among living female artists, with sales of $22.7 million since 2004. "Twenty years ago we couldn't get anyone to pay attention to her work," says Ann Marshall, owner of Durham Press, a Bucks County (Penn.) gallery and studio.
Sales for leading painters Elizabeth Peyton and Xu Lele, and sculptor Cady Noland—who holds the price record for a living woman artist at $6.6 million—have climbed more than 3,000 percent in five years. Collectors and dealers say trophy pieces by women will eventually start to go for tens of millions of dollars. "They will reach those levels in a decade, but only a handful," says Valeria Napoleone, a collector in London who owns about 290 pieces by women. "The talent, the consistency and seriousness in which they approach their practice will be recognized."
Before it's here, it's on the Bloomberg Terminal.
LEARN MORE